Chevy K10 truck restoration Phase 7: Interior
The time has finally come to do the interior! The interior is getting a full color change to match the new exterior. 
First things first, tear out all the old crap:
Yup, the floorbards are a little rusty. No surprise. But honestly they're not that bad and they won't need any patch panels welded in I don' think.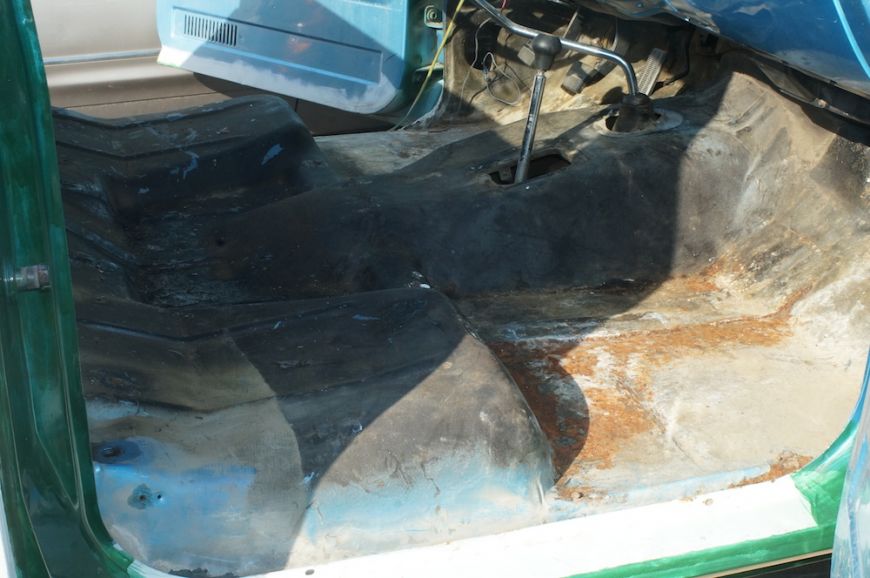 After some sanding: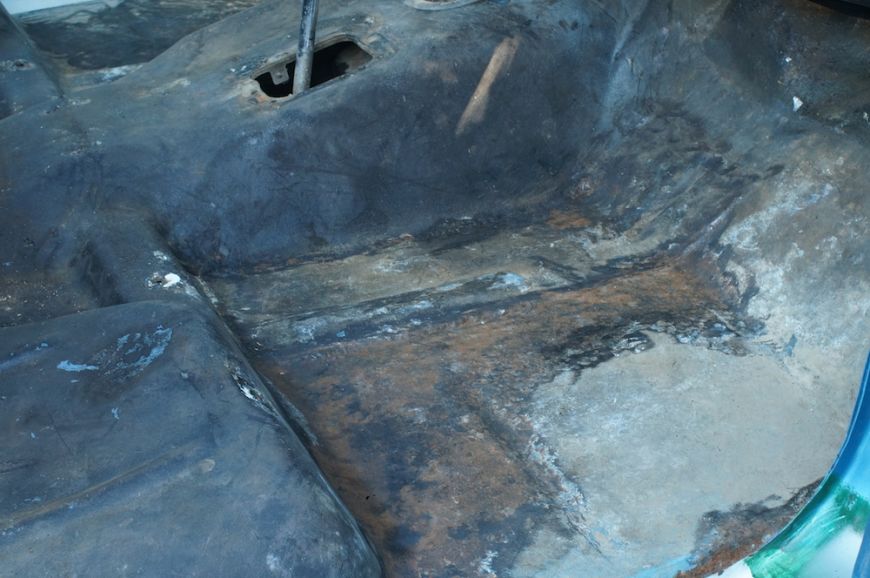 Then I used CRC Rust Converter to kill the rust. This stuff is great, much better than the rustoleum spray on rust eliminator!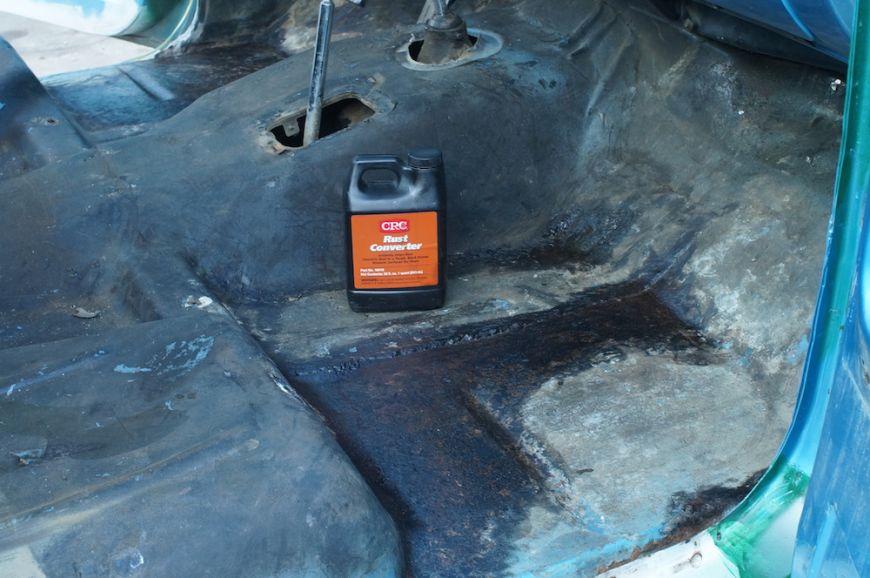 Then I followed that up with two layers of Rustoleum truck bed coating.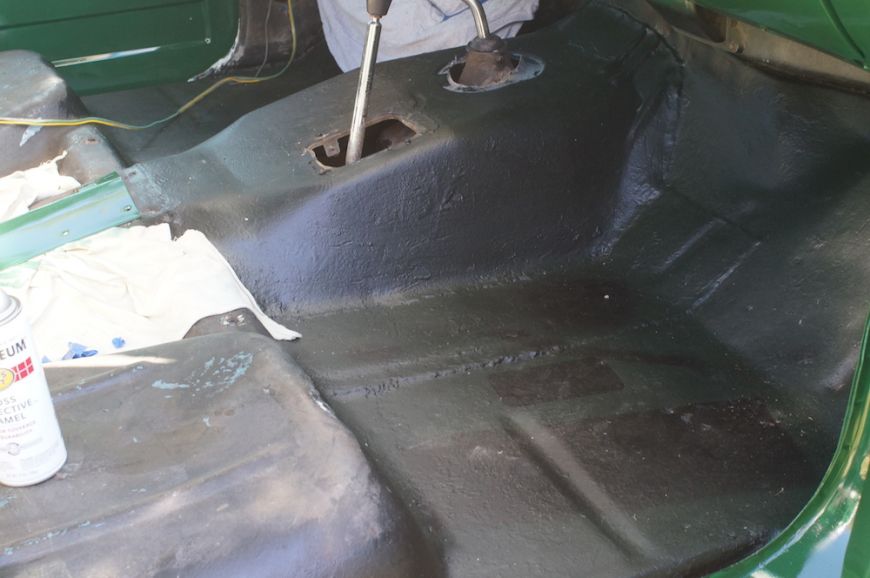 Next, I painted the insdide of the doors and metal dash and ceiling and stuff with the same Rustoleum green paint that I used on the exterior. To speed up the process, I first used spray paint and then I rolled on one layer of lighly thinned rustoleum mixed with a little enamel hardener. The rolled on paint is much glossier and is much harder than if I used spray paint.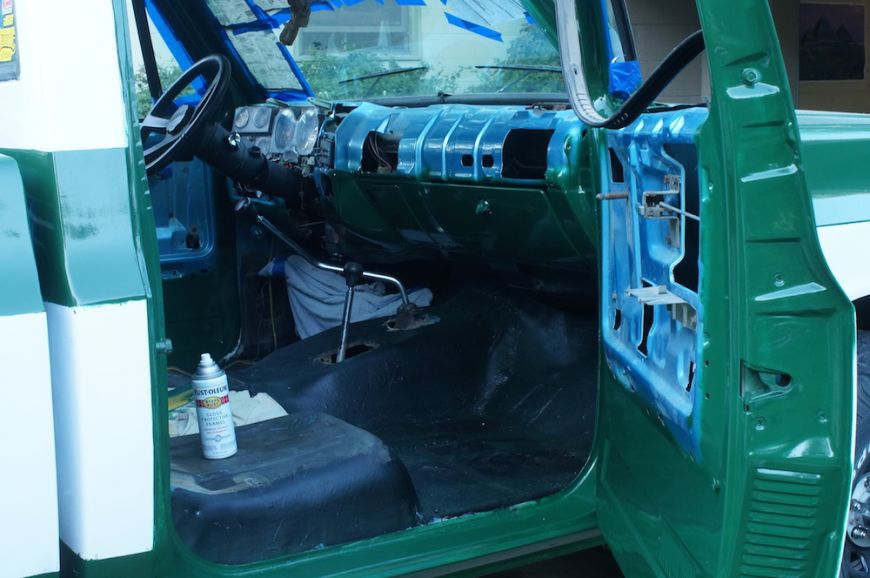 For all the plastic parts, I prepped them by washing them with soap and water, then whipping them down mineral spirits, then I used Duplicolor adhesion promotor primer spray. This step is an absolute must for painting plastic. I didn't use it on the vinyl parts however, namely the sun visors and the arm rest pads.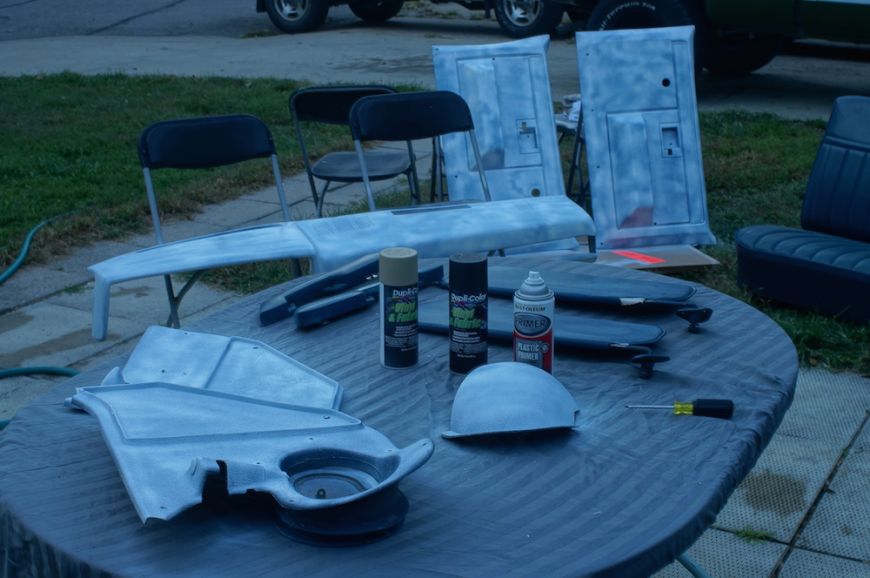 Then I spray painted them with Duplicor vinyl and fabric paint. Everything was painted tan, except for the arm rest pads and sun visors, which were painted black. 
BTW, that's a plastic dash cover that came with the truck when I bought it.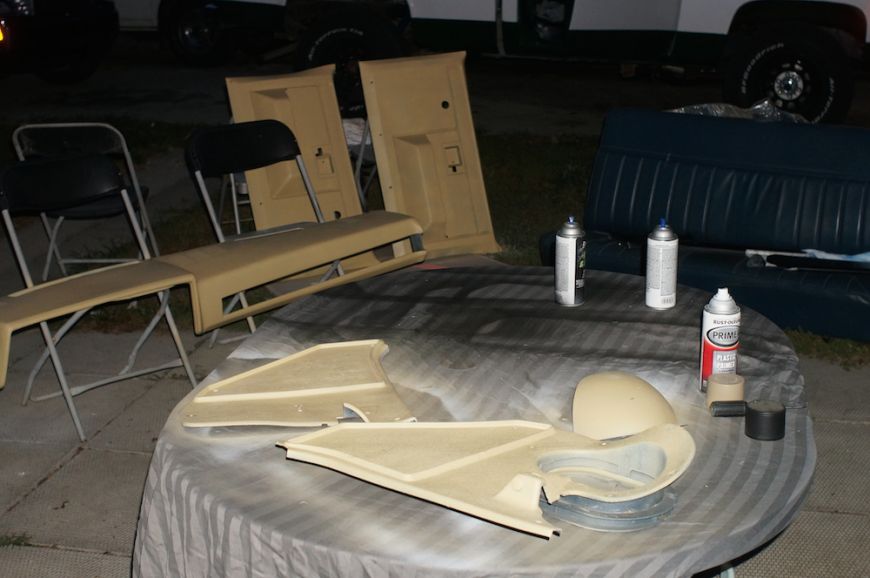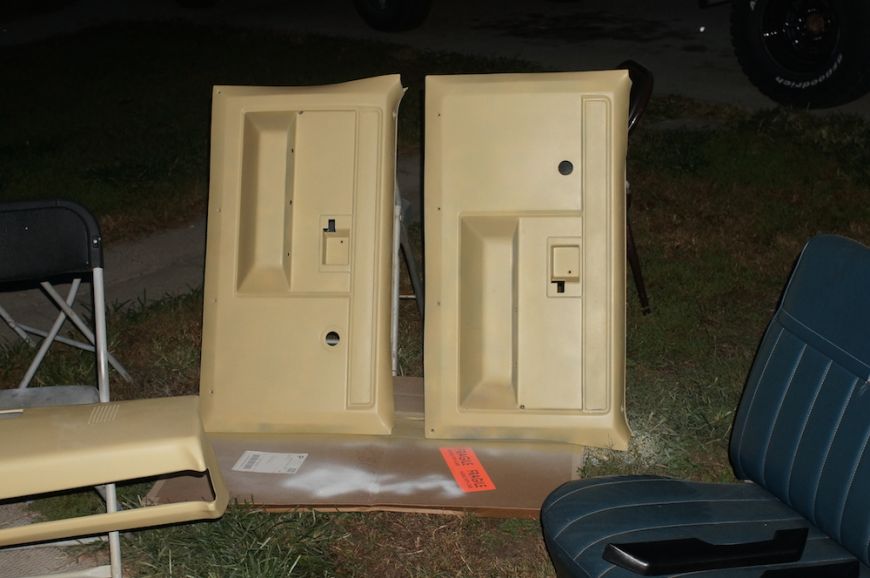 Finally, I installed a bench seat cover that I bought from Amazon for a MUCH better price than anywhere else I looked.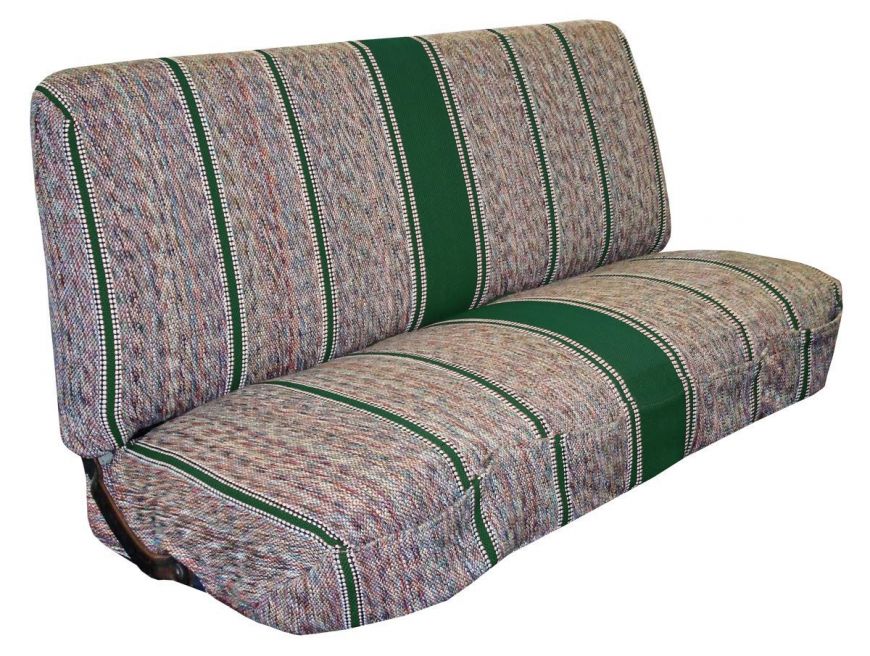 Looks really good!!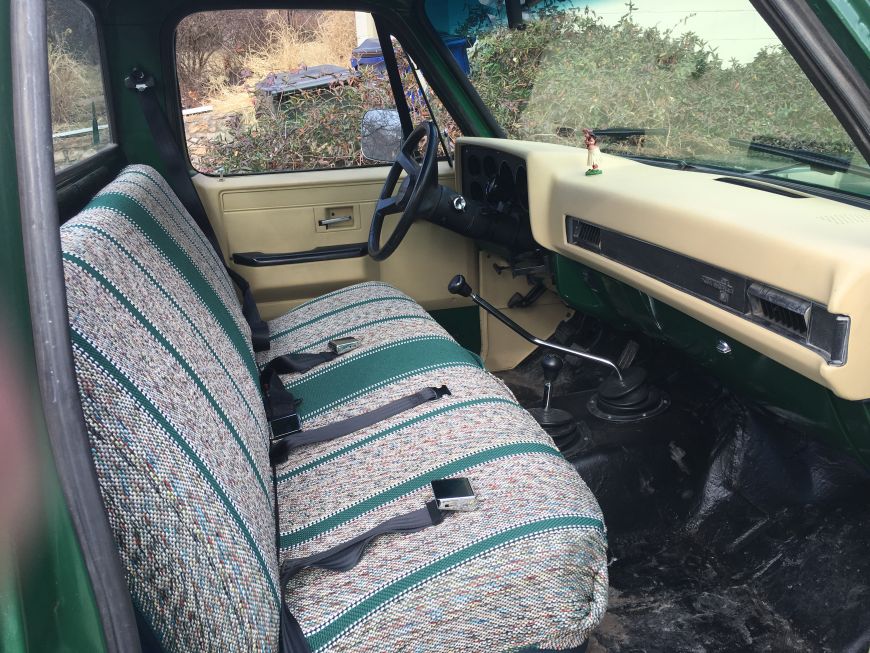 Time to install some goodies now!
First up, a radio. A bluetooth speaker box to be exact. I bought the DKnight Magic Box II, a JawBone clone for only $25!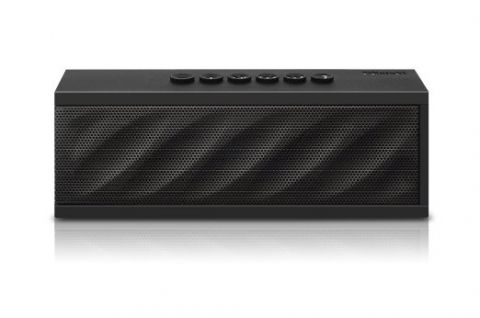 I installed it on the ceiling between the sun visors. I noticed that when it's mounted to the metal roof the bass resonates through it and makes it sound much bigger!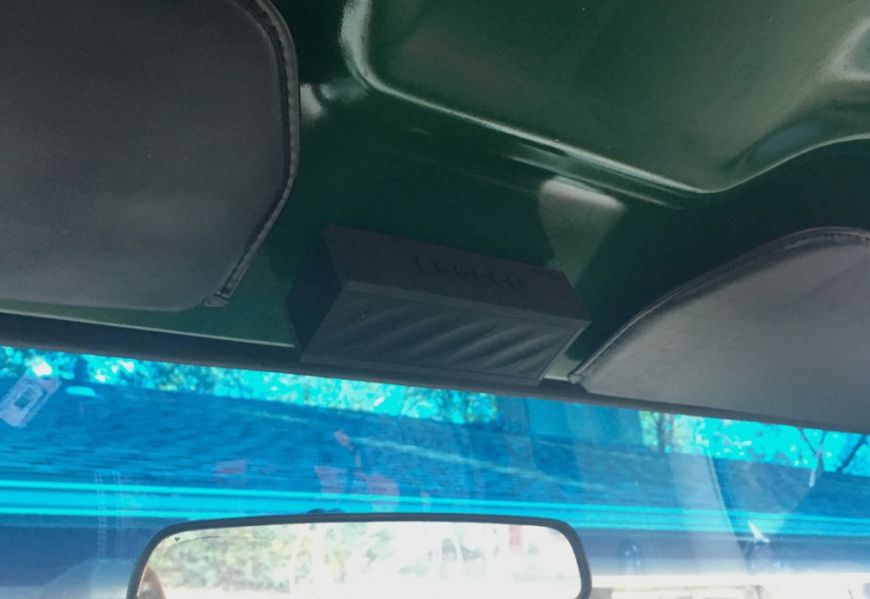 It's held up with magnets that I salvaged from broken hard drives. The magents hold the bluetooth speaker against the metal ceiling so that the bass from the speaker vibrates into the ceiling which acts like a big acoustic guitar.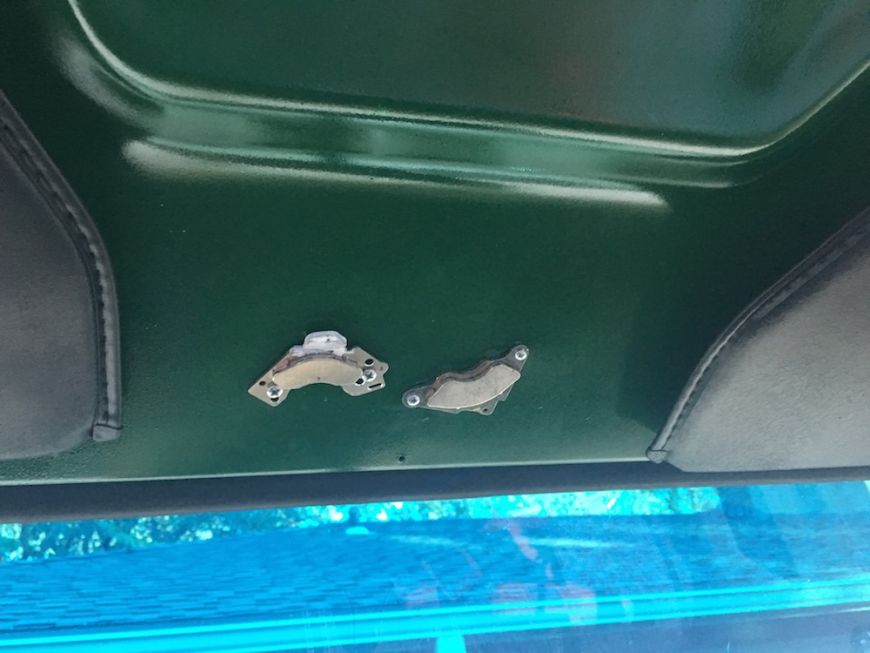 Installing the bluetooth speaker on the ceiling meant that I had free space in the dash where the old stereo used to be. 
So to fill it, I bought this cup holder thing from Amazon.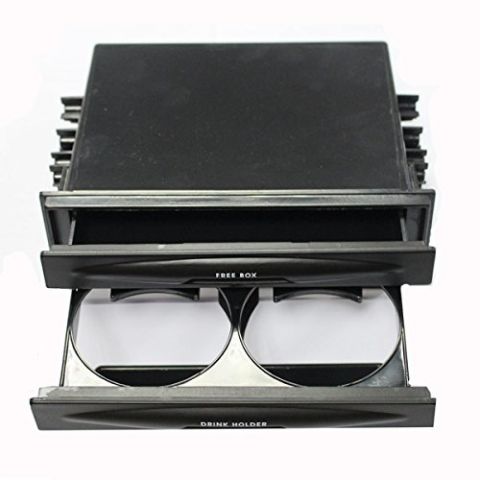 Now my truck can hold beer! (Not while drive of course)
Last but not least, I topped of the interior with a period-appropriate, jiggly hoola girl. I love her!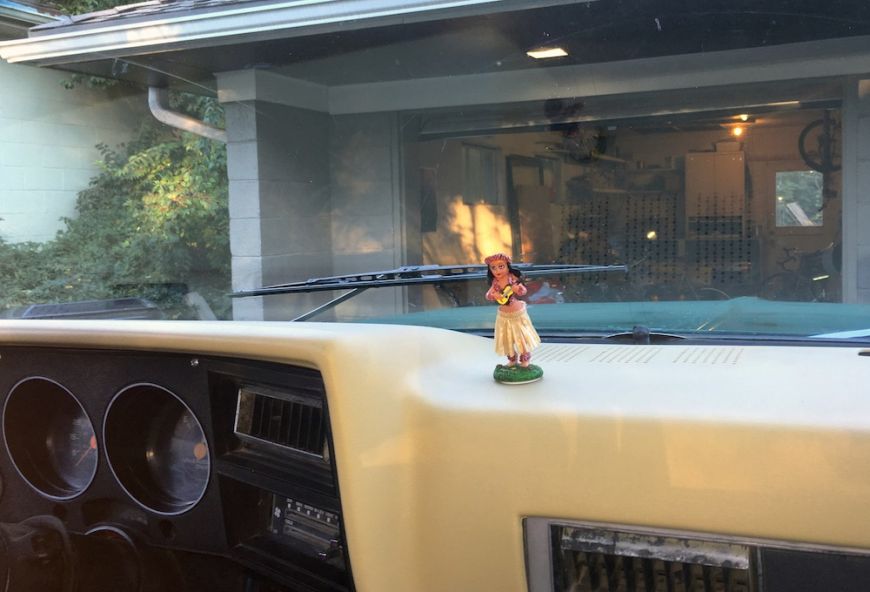 Almost done now! Go here to see the next phase, exterior trim: http://dannix.net/node/63