The (in)famous $50 paint job! or: How to paint your truck/car with Rustoleum and a Roller (part 1)
First I want to say that I'm NOT a body/paint guy, this is the first time I've ever done anything like this. And I'm not the first to do the "$50 paint job" and I wont be the last. More info:
Materials needed:
Basically, the idea is that oil-based enamel paints from your hardware store can be ROLLED onto the vehicle if you thin heavily with mineral spirits and use a high-quality foam roller. The mineral spirits help it level out while it's drying and its supposed to make the paint cure faster so you can wet sand the next day. A glossy, flat, durable (relative to, say, a rattle can paint job) finish can be achieved with a very small amount of money. However, it's very labor intensive. The popular paint for this is Rustoleum Stops-Rust (or Tremclad for you Canadians). Once the dots were connected and it was discovered that boat painters have been doing this for decades, people started using boat paint which is supposed to be easy leveling right out of the can and is a urethane enamel as well and boasts UV protection which Rustoleum does not. 
But, Instead of using Rustoleum or boat paint, I'm going to use Sherwin-Williams "all surface" oil-based ename [spoiler alert: I ended up using Rustoleum, but continue reading to see the results of this experiment]. Why? Because you can get it mixed in any color you can possibly imagine! The folks at the Sherwin-Williams store will mix any color from their massive pallet. Good luck trying to get Home Depot to do that for you with Rustoleum (they will not and can not). And it says it's UV resistant, which Rustoleum is not. However, I've done a lot of research and I've never found anyone else who has claimed to use this paint. So, hmmm... It's also more expensive, $23 for a quart plus tax and about $60 a gallon. Thats twice the price of rustoleum.
The only problem... deciding on the right color is really hard! What I bought was Sherwin-Williams 6719 Gecko Green (looks like Medium Lime, right??), just picked up a quart in case its the wrong color. Mixed 5oz paint with 3oz mineral spirits. Still experimenting with what I need to get it right. It didn't roll on nearly as well as the Rustoleum.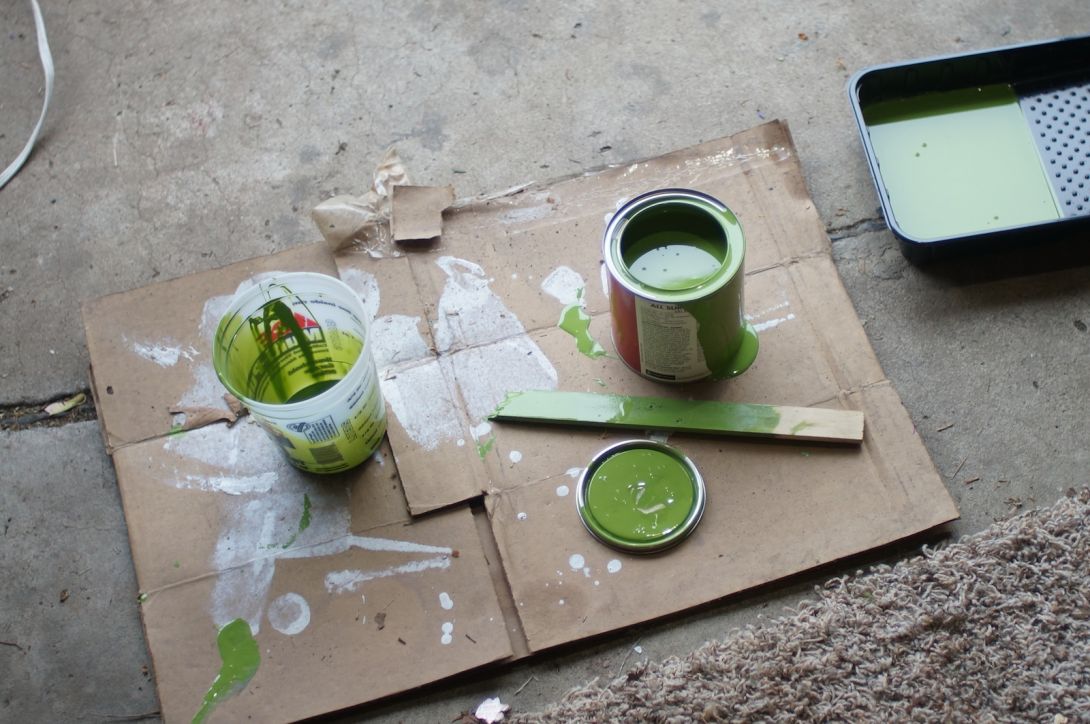 Let's start with the hood. Keep in mind that it's going to look like crap with only one coat. (Side note about the hood: I used an angle grinder to remove old paint which turned out to be a terrible idea, hence the skim layer of bondo.)
First the body work of course: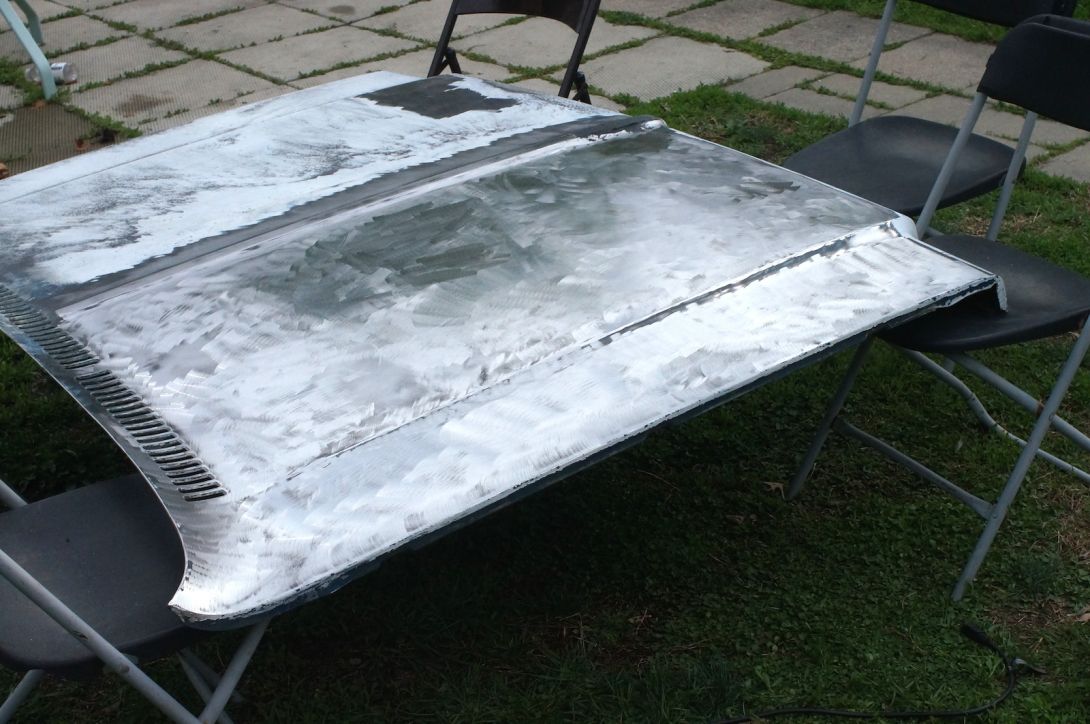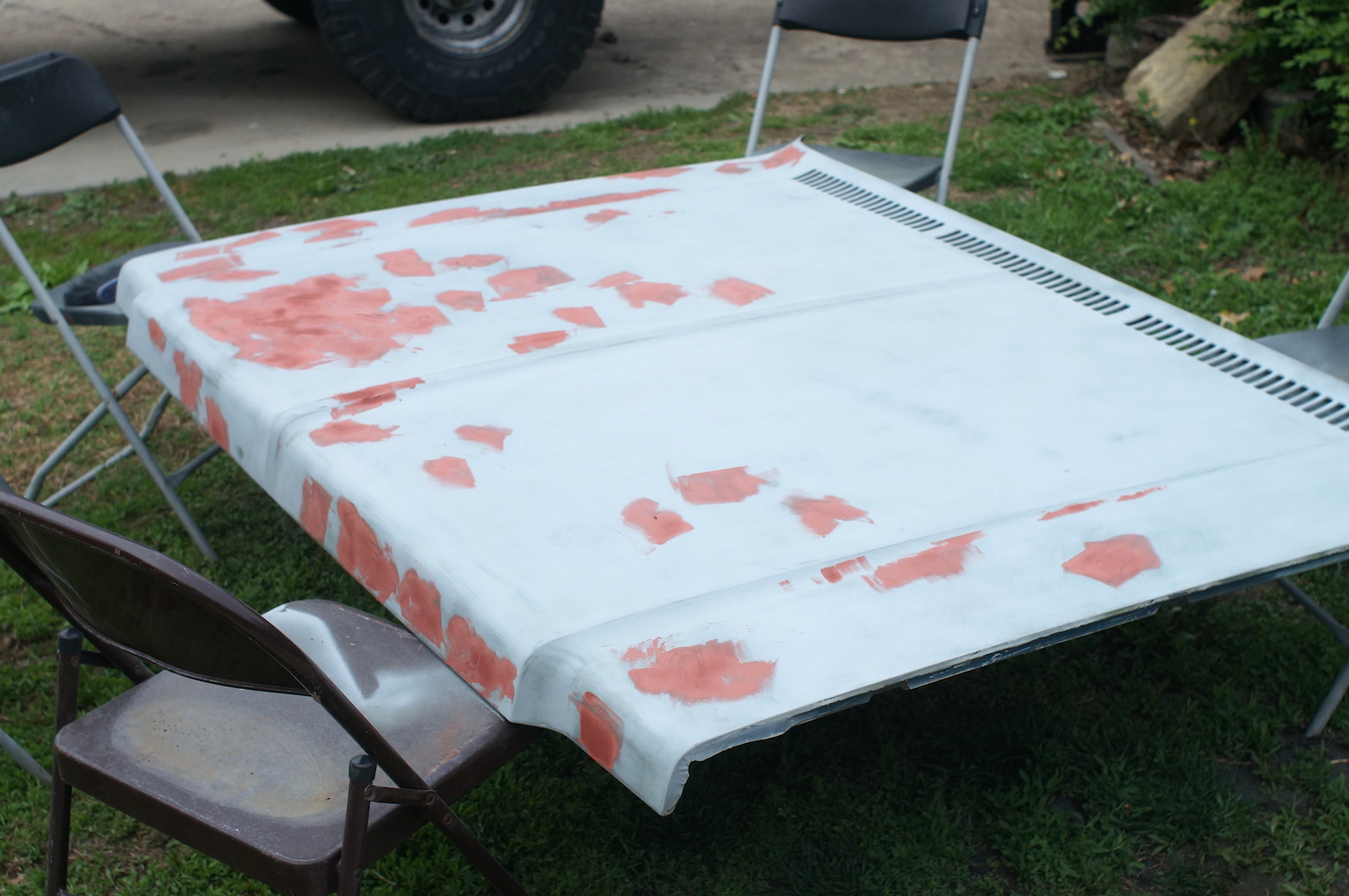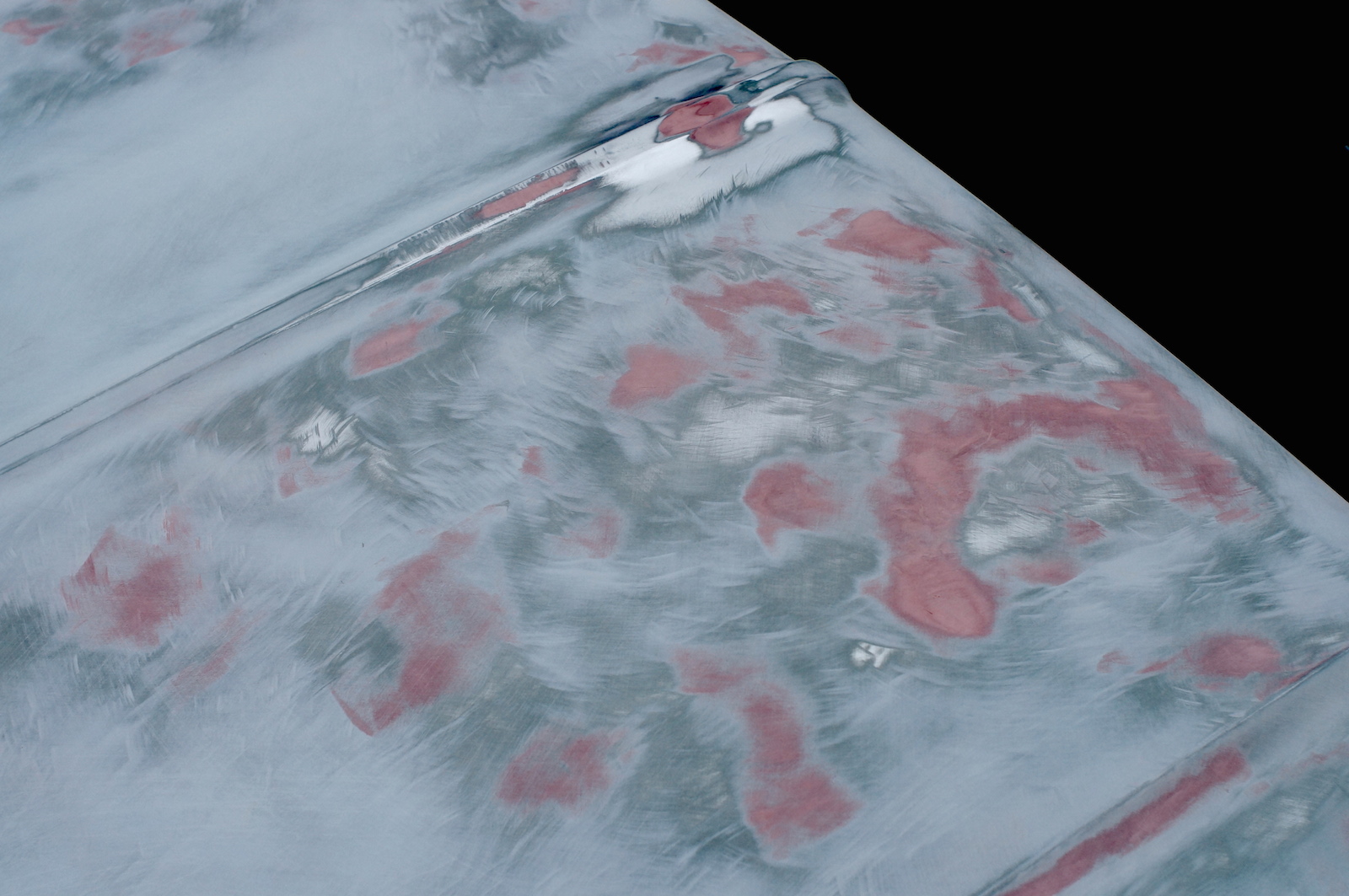 Now I was ready to apply a coat of the Sherwin-Williams gecko green All Surface enamel paint.
no flash: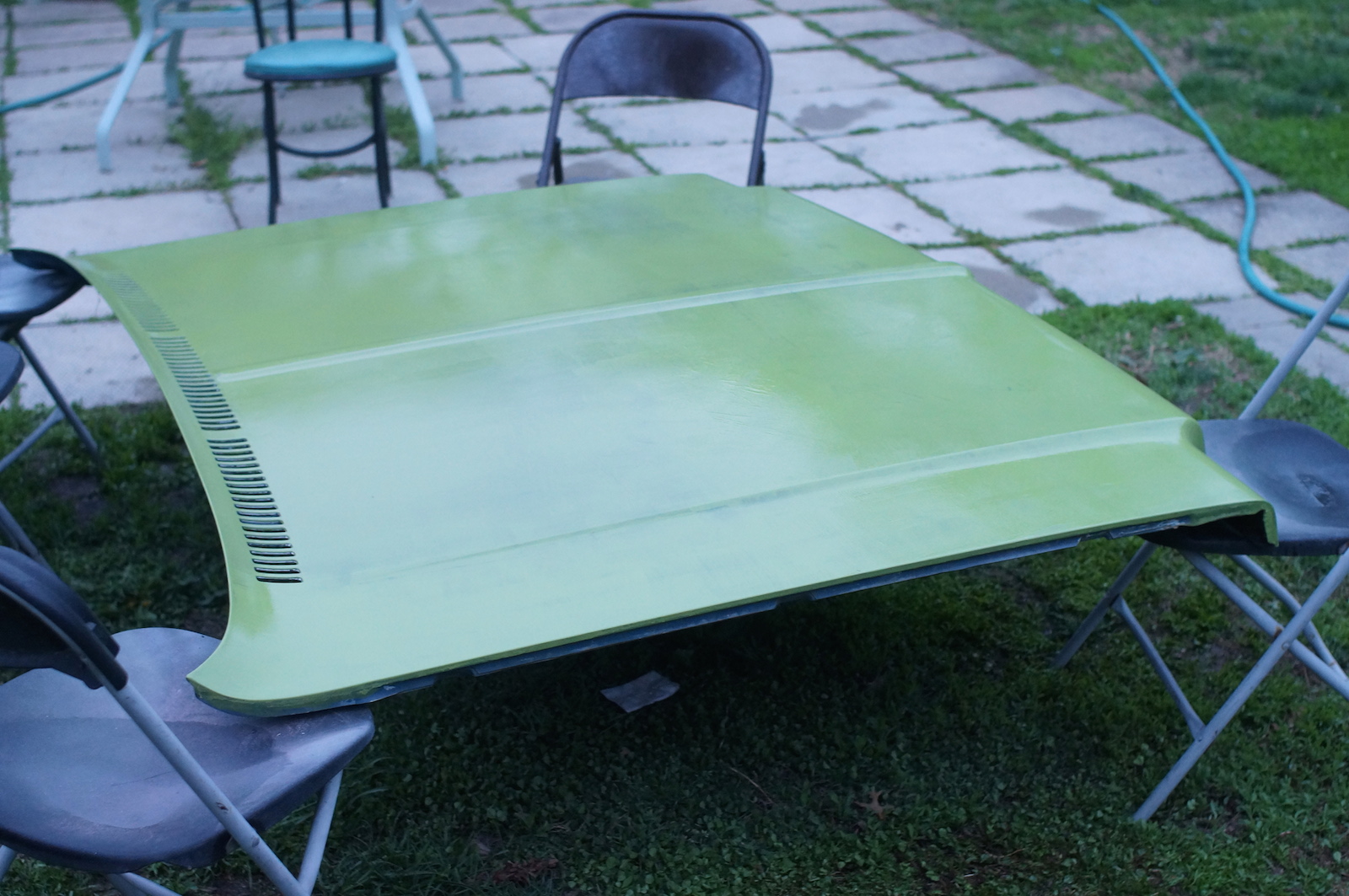 with flash: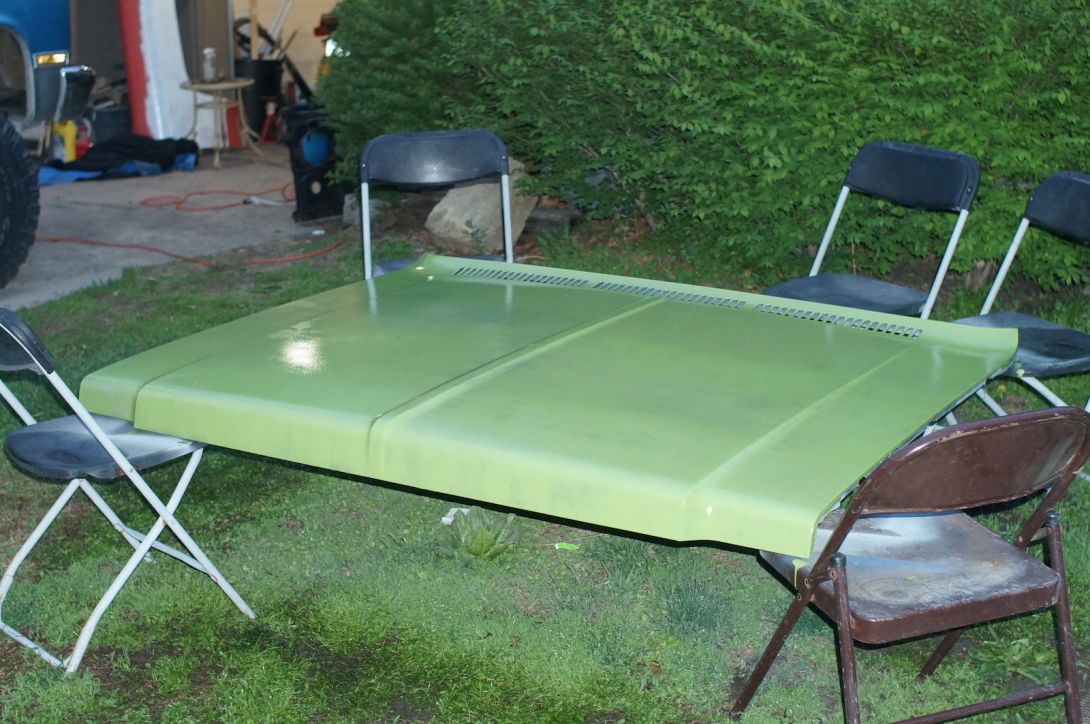 Wow! look at that color! After the initial shock went away (it's completely different then the Medium Lime I tried to pick out), it started growing on me right away.
Remember, I said I'm still experimenting with the correct way to roll this All Surface stuff on. Well, after the first coat and with the mixture of paint + mineral spirits sitting around over night, this is what I saw in the morning: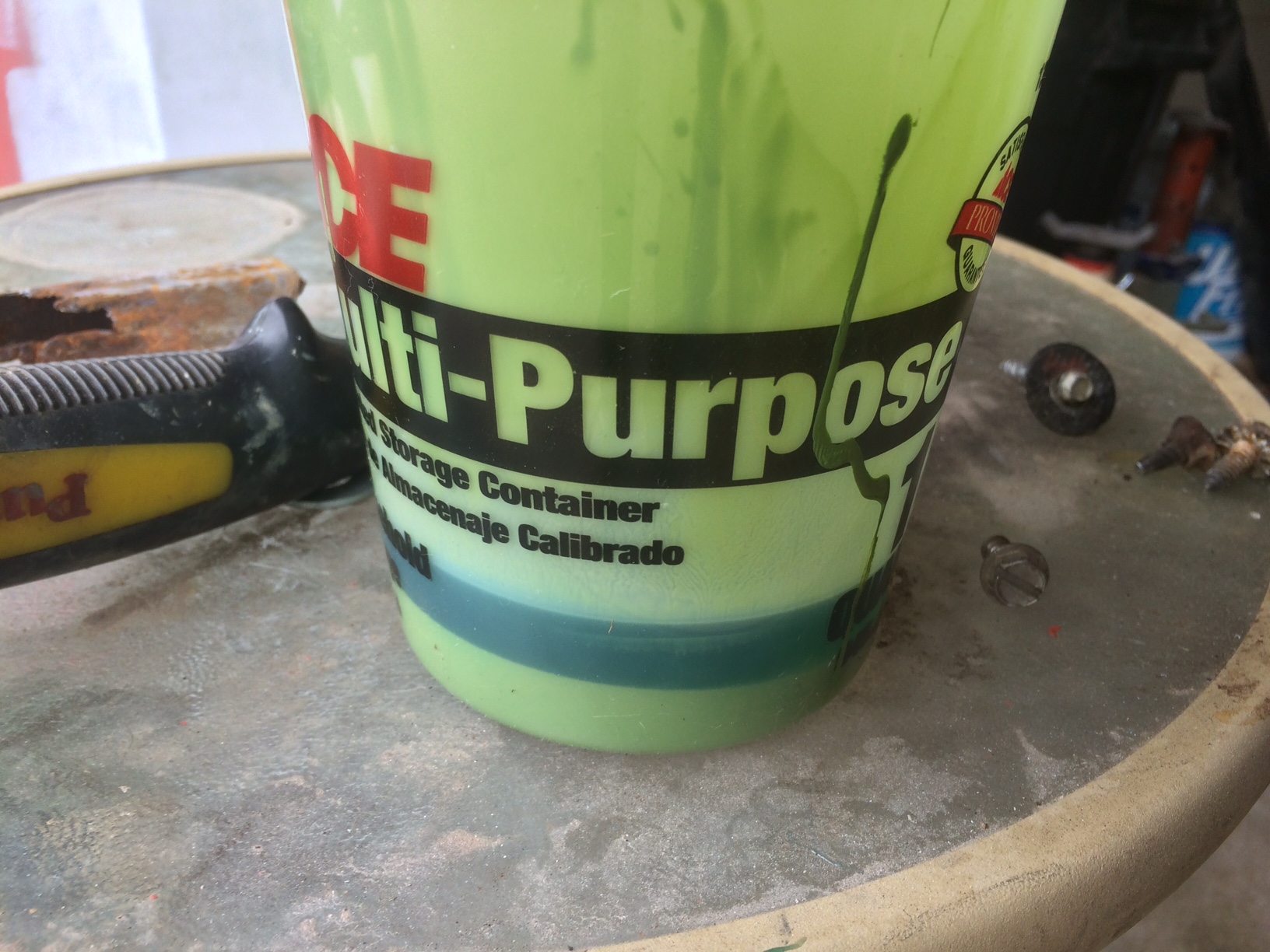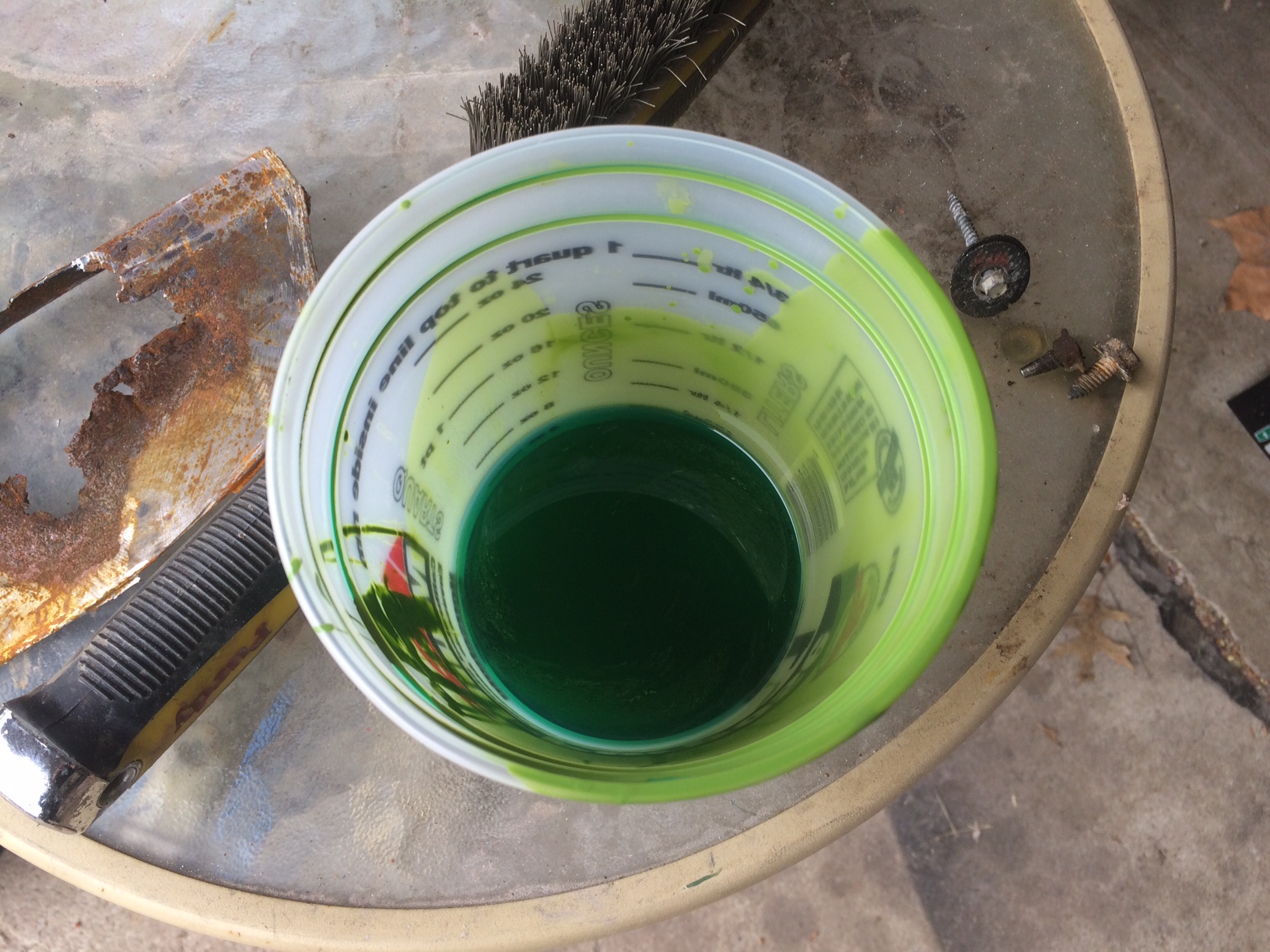 The paint has seperated into layers. I don't think mineral spirits is the correct thing to thin this stuff. The can just says "thinning is not required" and says nothing else about what to thin it with or how much.
TIME TO DO SOME EXPERIMENTING!
I bought some Flood Penetrol from the hardware store for a little over $10. This stuff is supposed to help the paint lay flatter and comes highly recommended my many on the net. I also found a can of medium strength Acrylic Enamel Reducer that my roommate had left over from his S10 build. My plan was to try several different combinations and see which one worked best.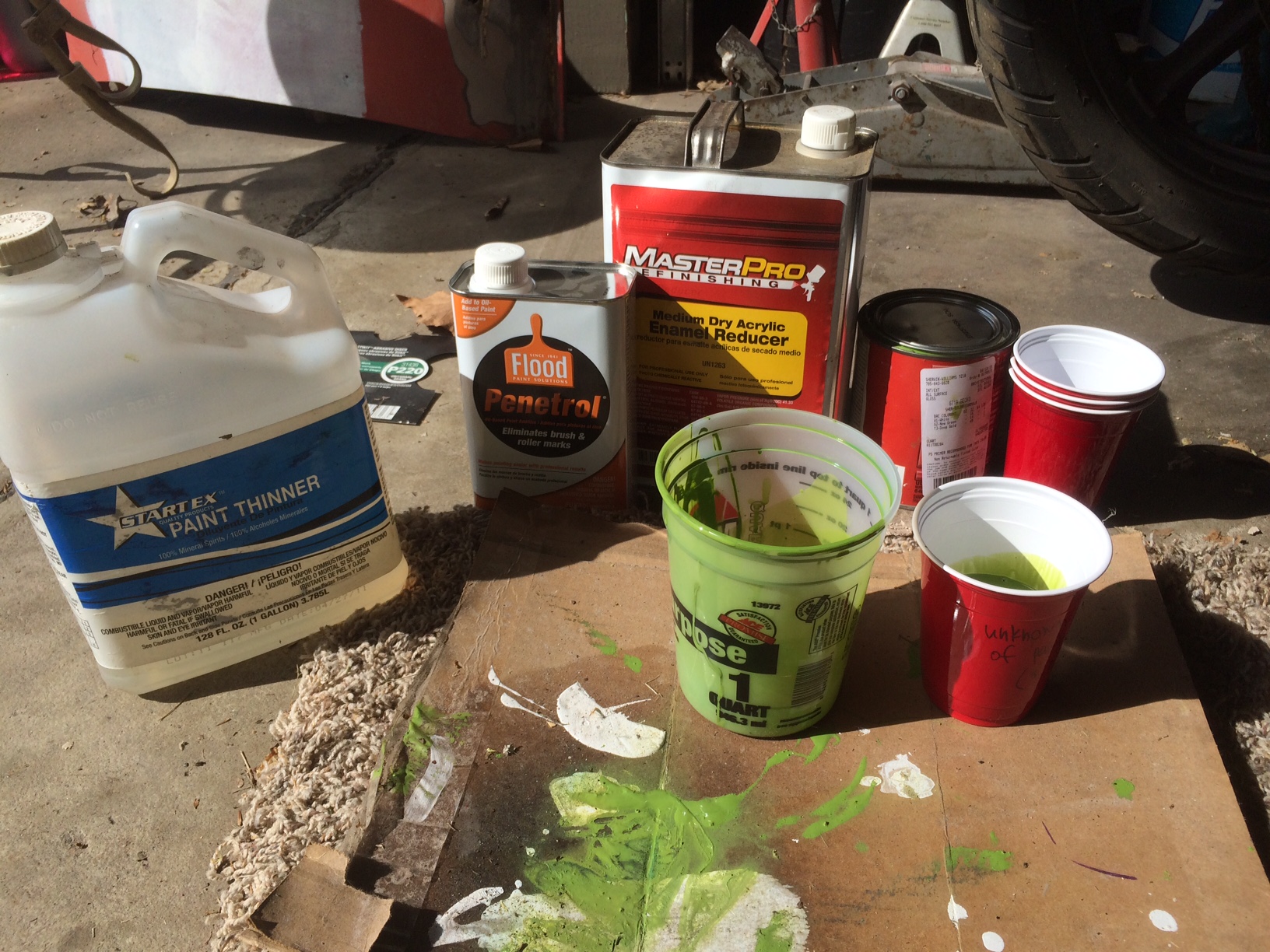 I used an old junk hood I had laying around, and made a matrix of combinations. Top row was with penetrol, buttom one without, and the columns where no thinner, thinned with mineral spirits, and thinned with enamel reducer.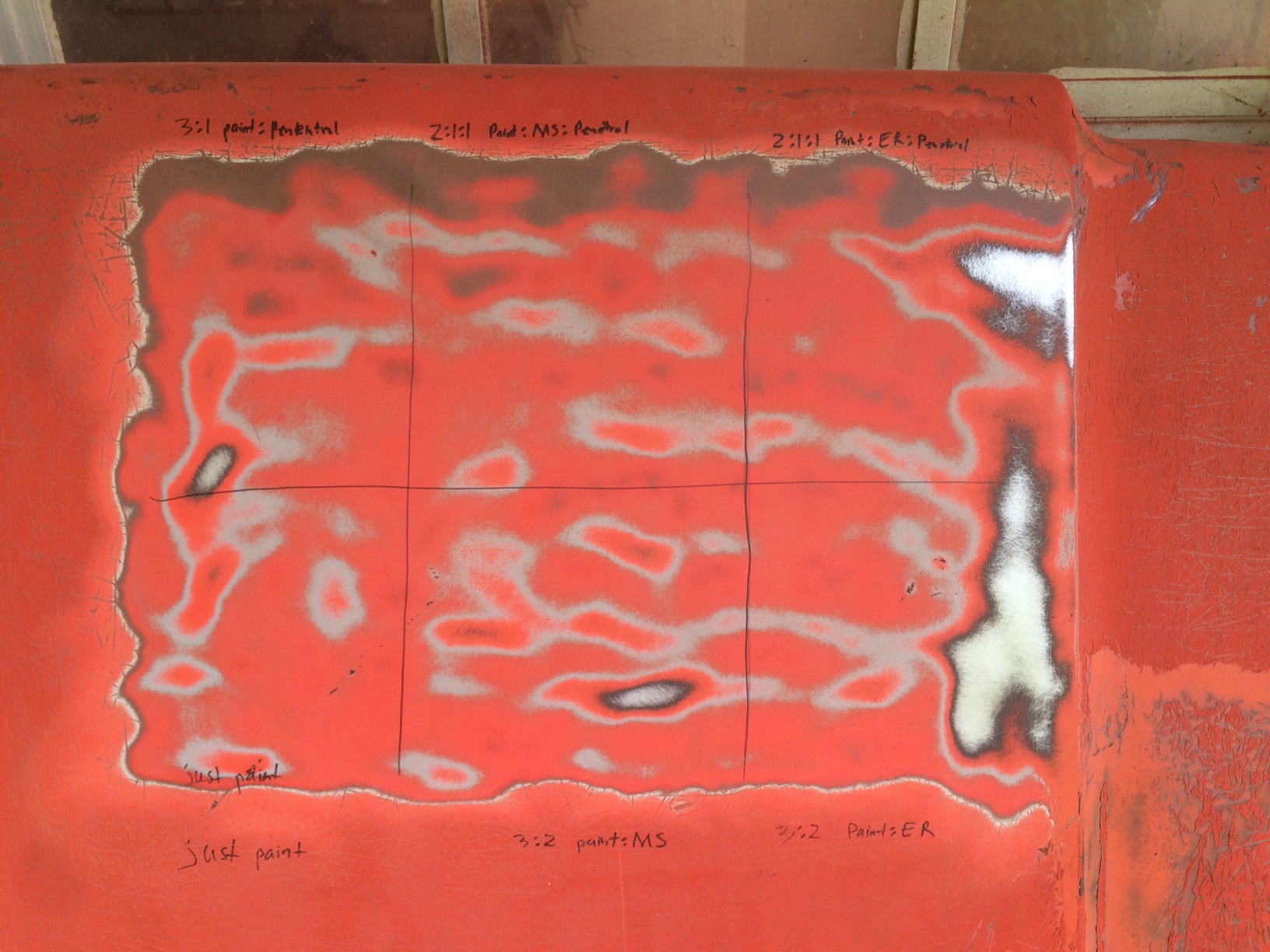 So the exact samples tested in this experiment were:
strait paint
3:2 paint:mineral spirits
3:2 paint:enamel reducer
3:1 paint:penetrol
2:1:1 paint:mineral spirits:penetrol
2:1:1 paint:enamel reducer:penetrol
Oh, and I'll try two different paint methods for each trial. Just plain rolling in one half of the square, and rolling then "tipping" in the other. "Rolling and tipping" is what boat painters do, look it up on youtube if you're interested. But the basic idea is use a brush just after rolling the paint on, just barely drag the brush on the paint to pop all the little bubbles.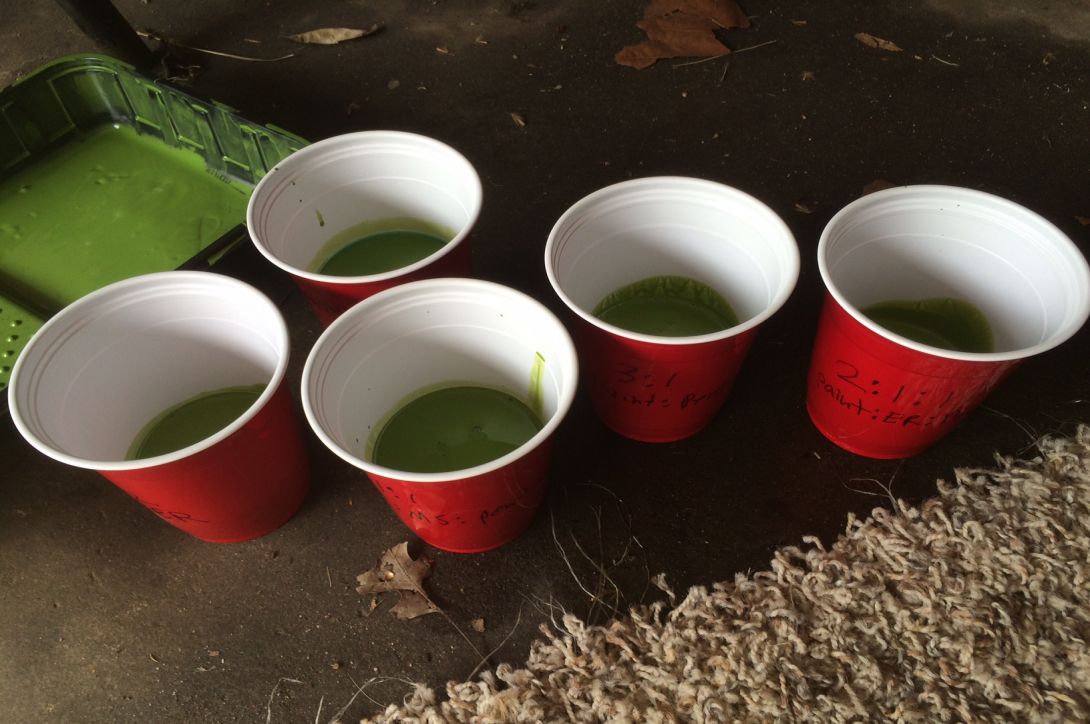 Things got real messy right away when I picked up the cup for the mix with enamel reducer and the bottom of the solo cup stayed on the floor! I guess the enamel reducer melted it off...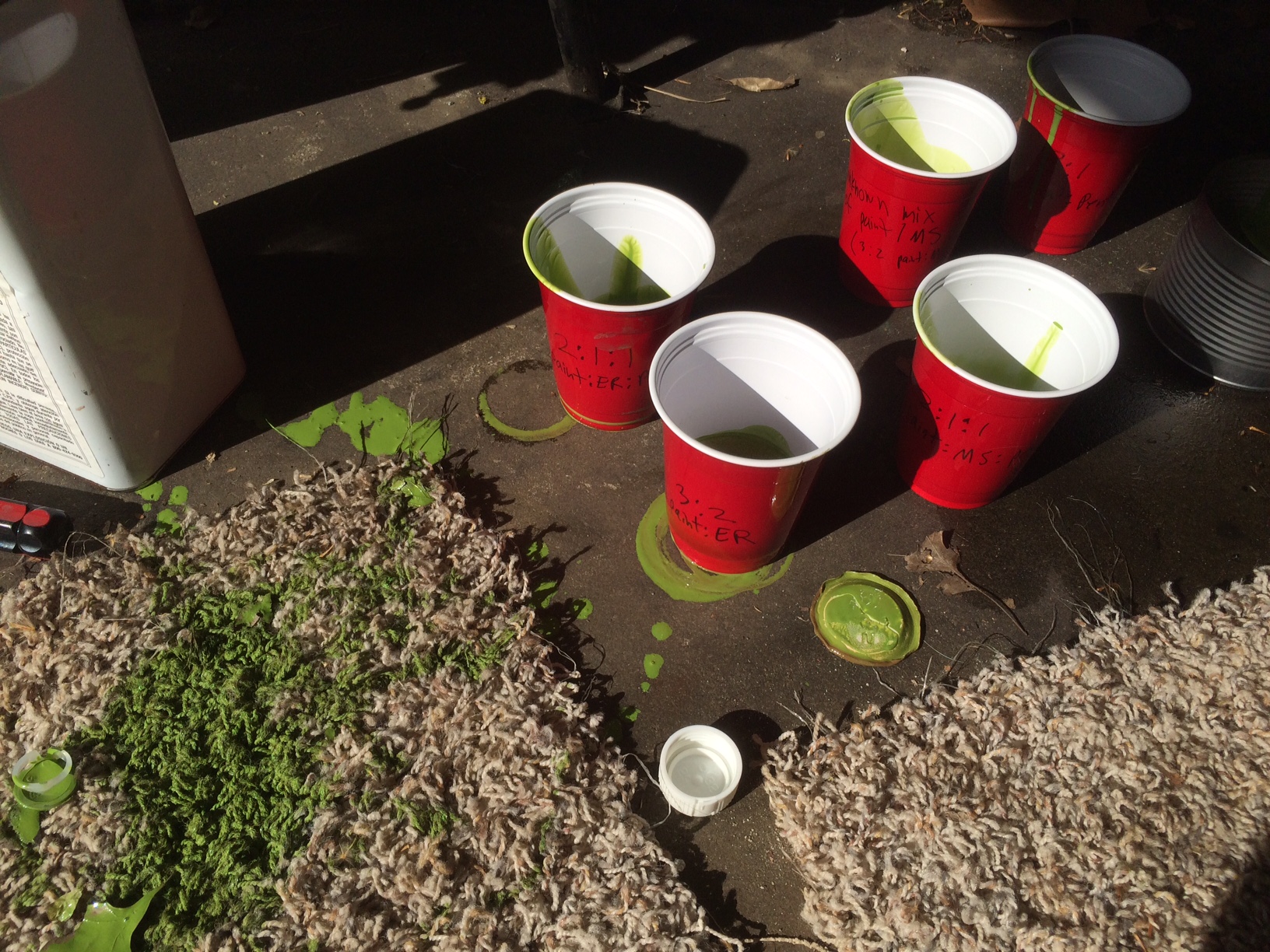 Anyways here's the results: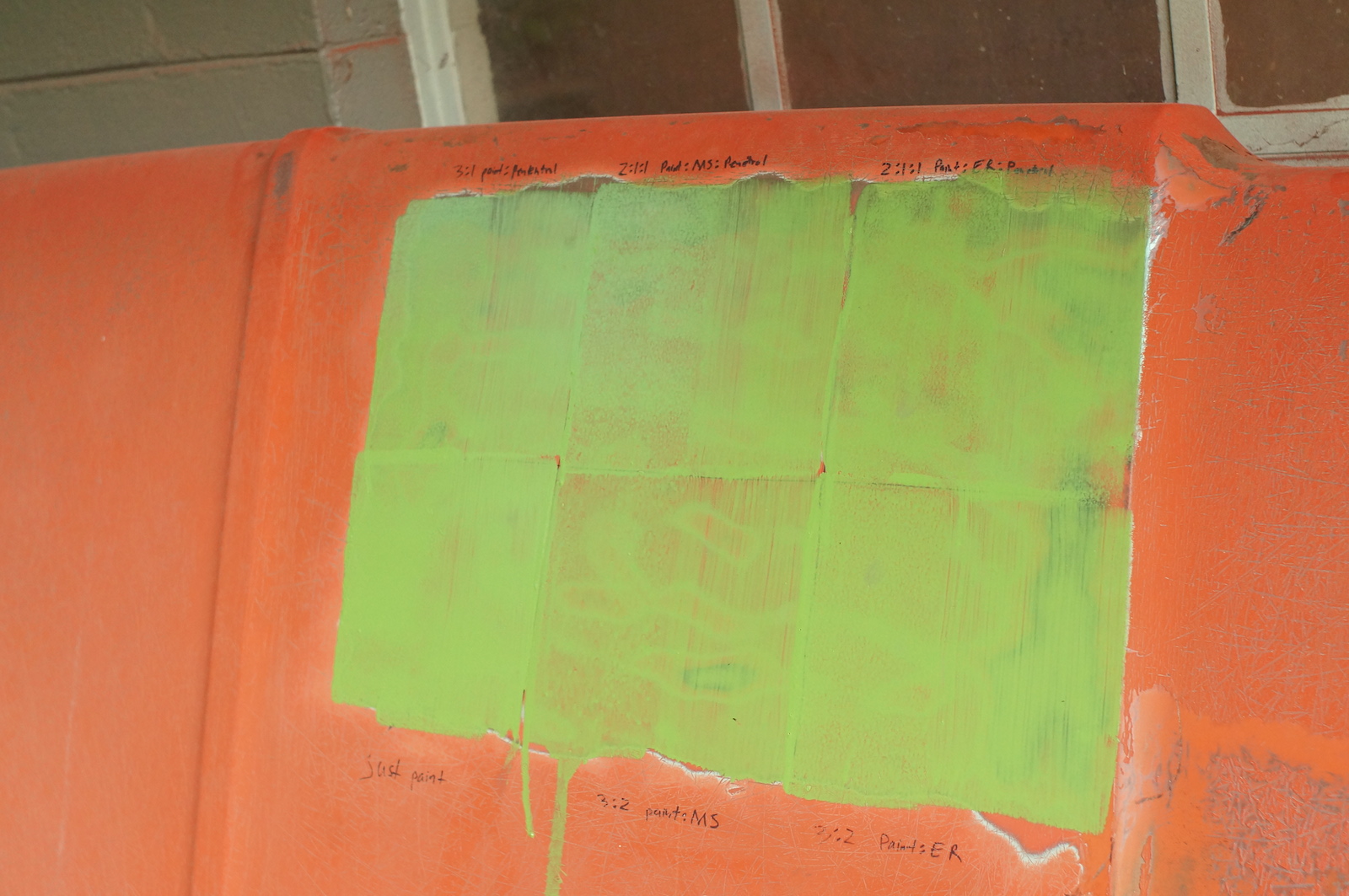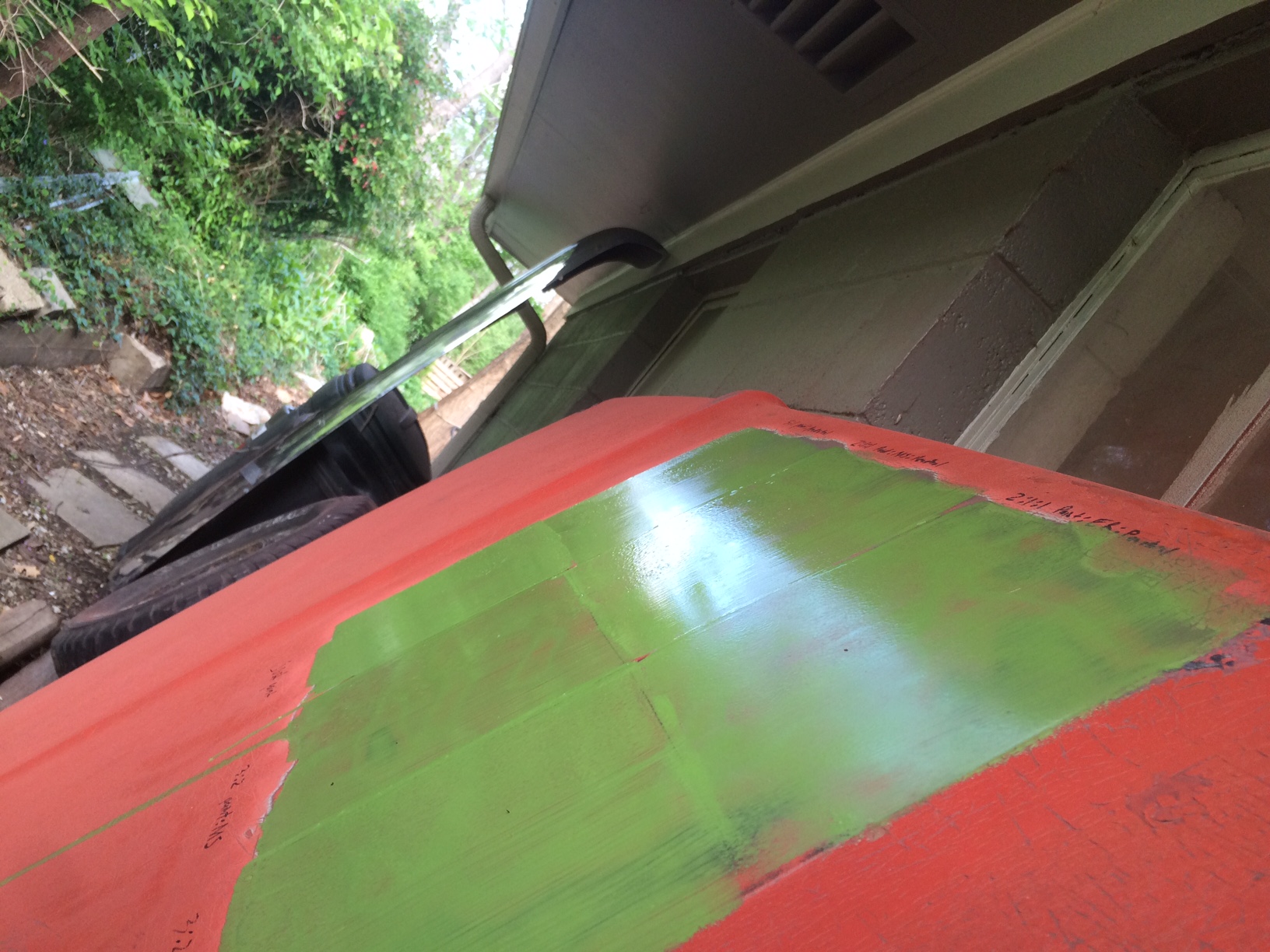 I think the best combination was the enamel reducer and the Penetrol was the best. That's the upper right corner in the matrix. 2 parts Sherwin Williams enamel paint, 1 part enamel reducer and 1 part penetrol.
All I had to do next was try out the combination on the 2nd coat I applied to the hood.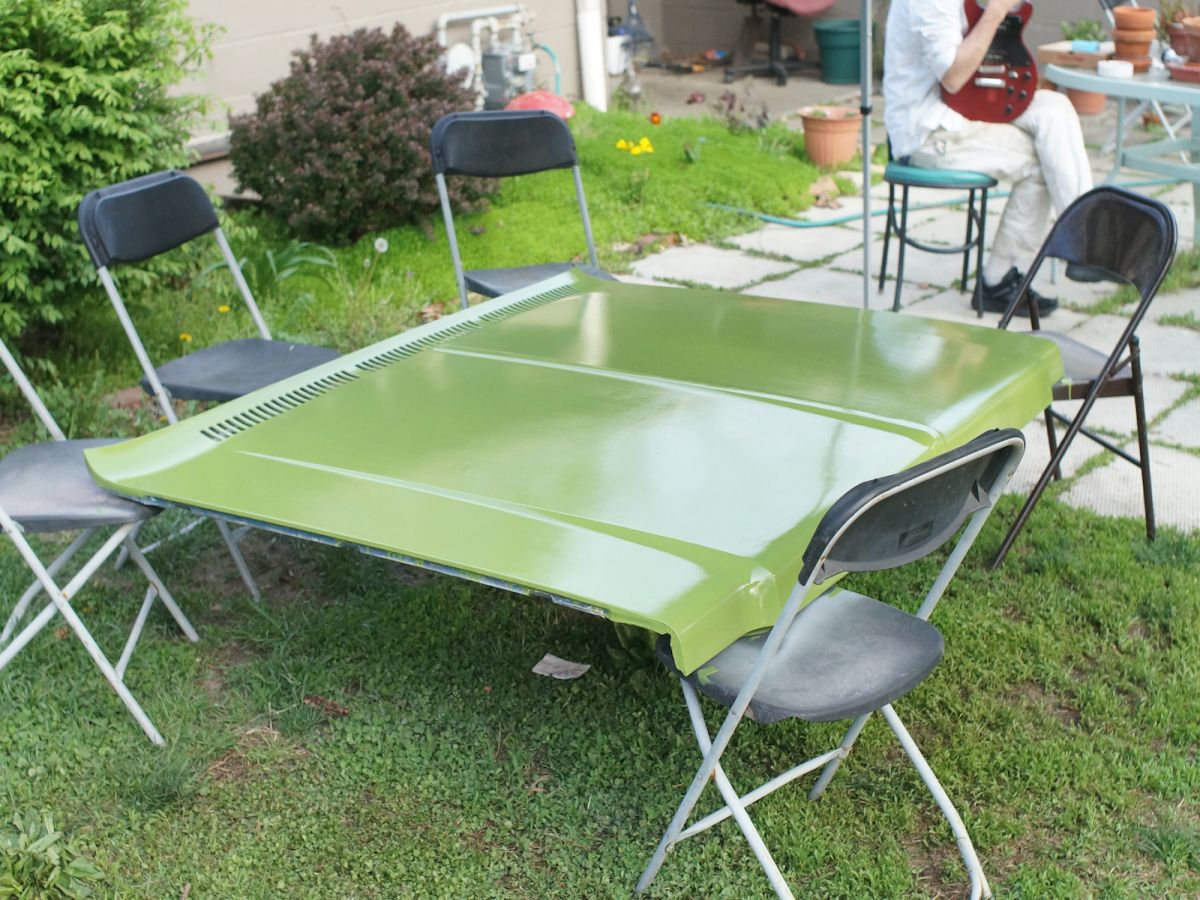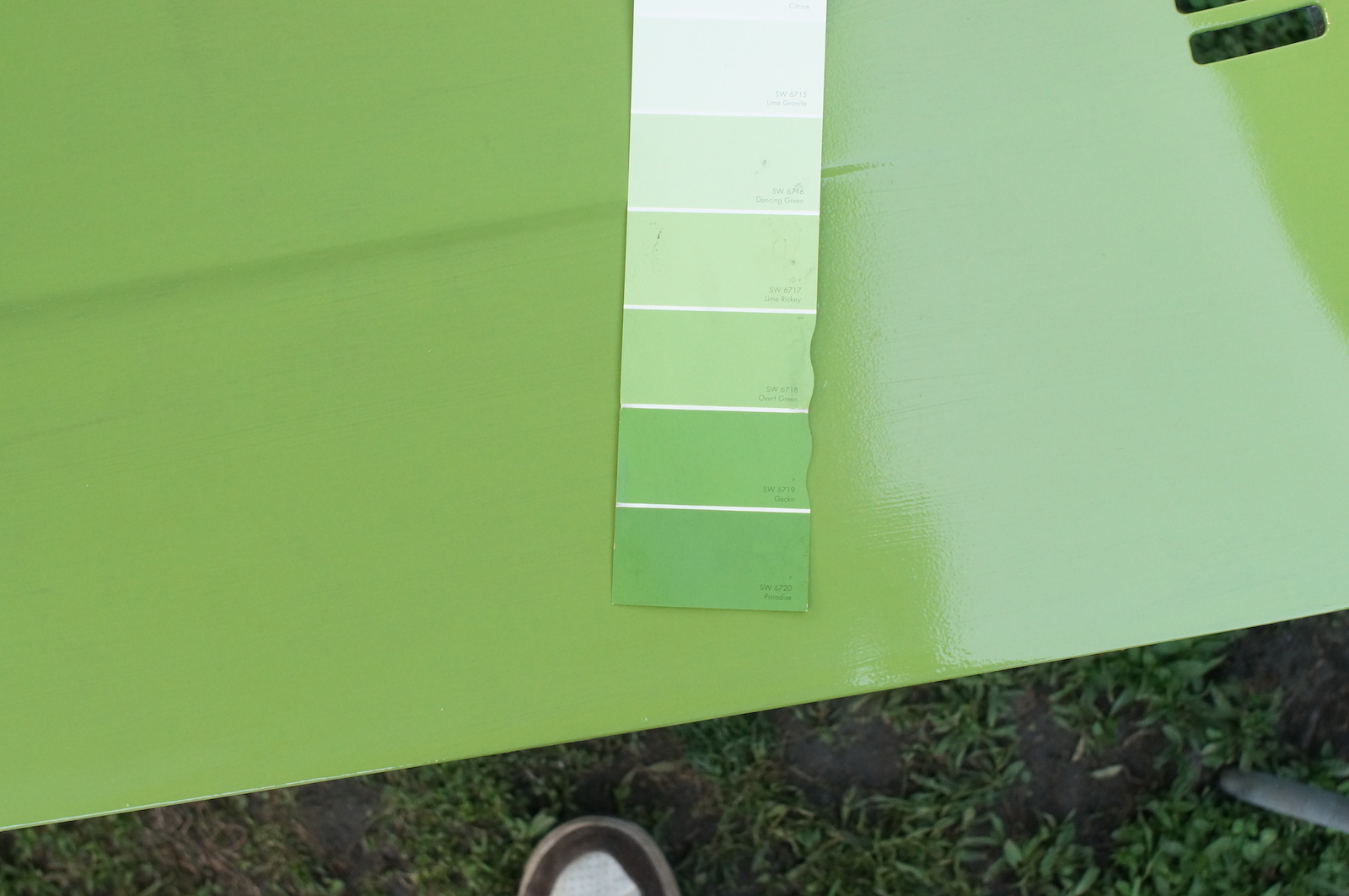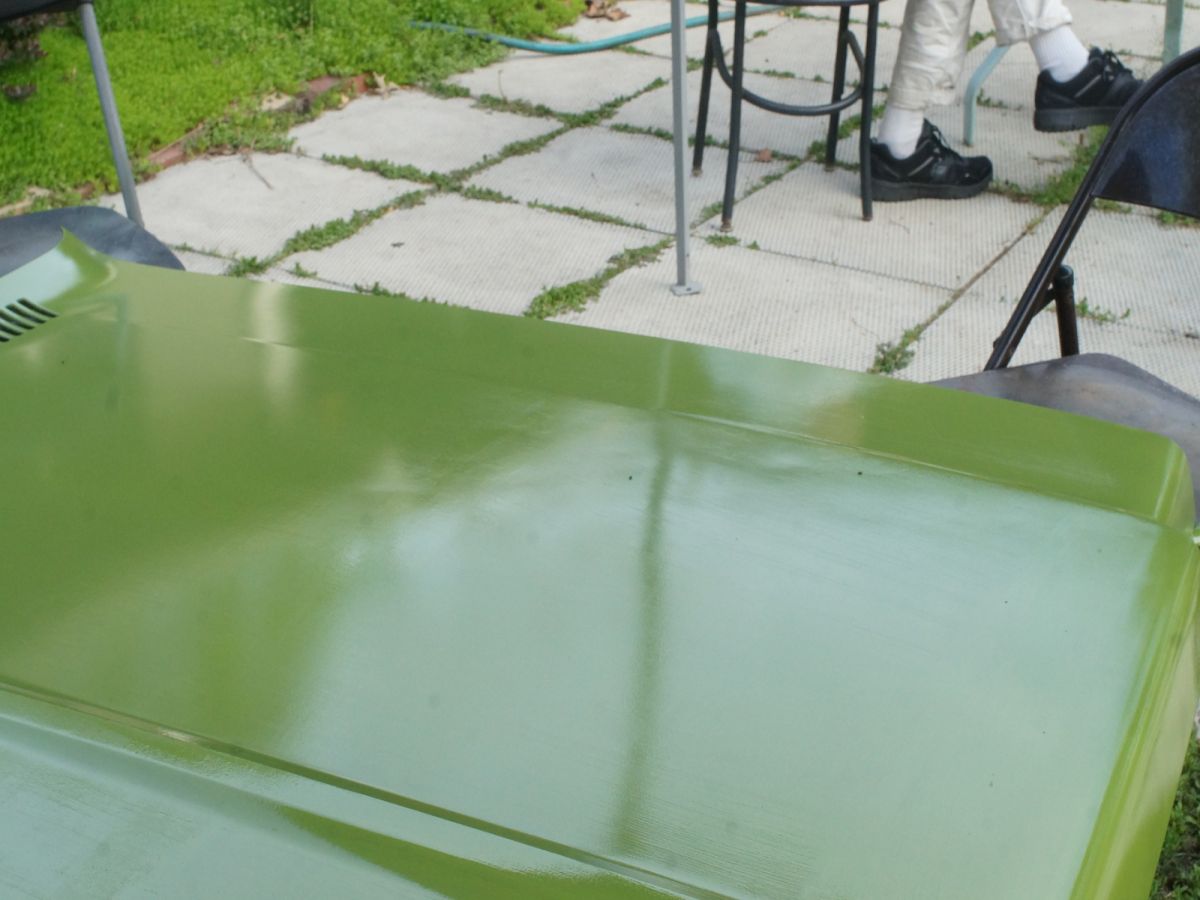 dang flies...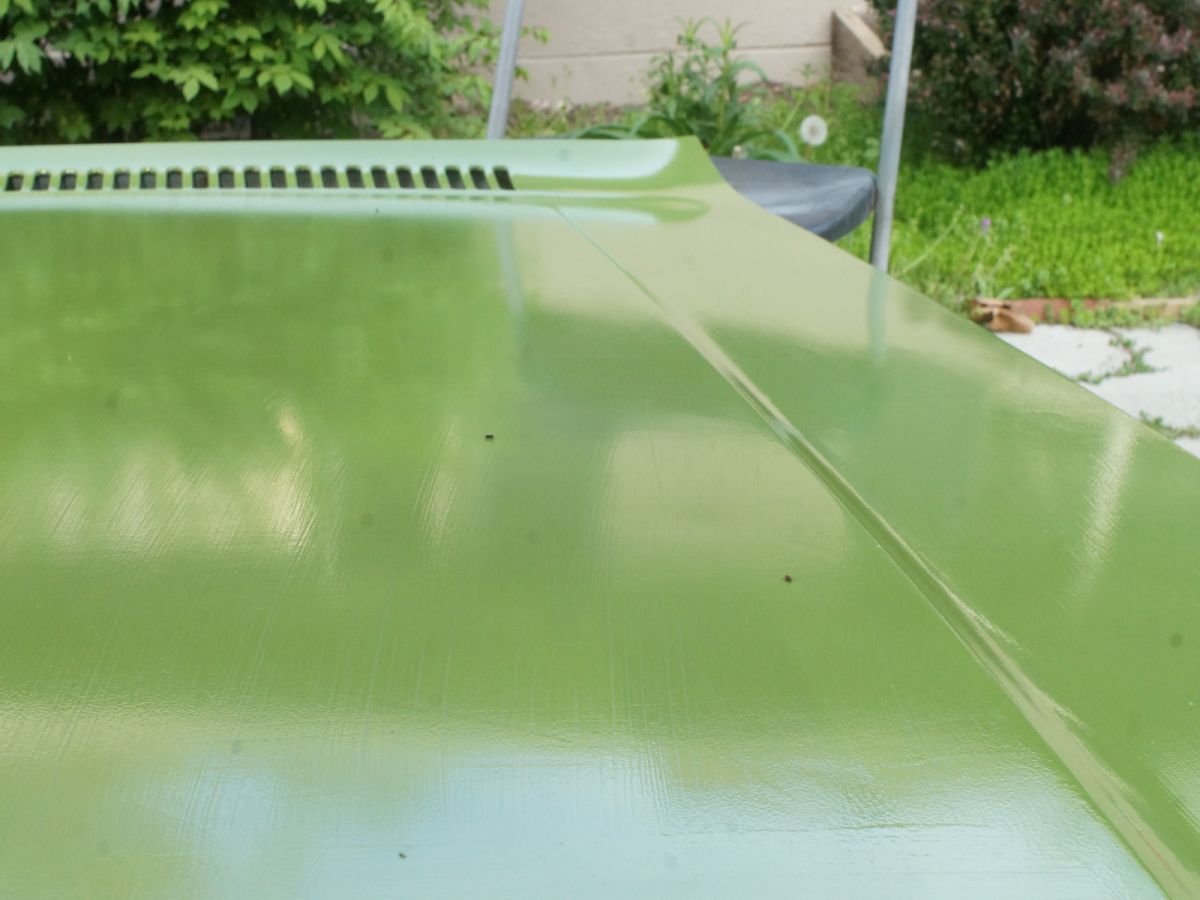 As you can see, there is a LOT of brushmarks and orange peel! That could be a problem....
Meanwhile, I used the cheaper Rustoleum to seal up the body filler and primer as I worked on the rest of the truck.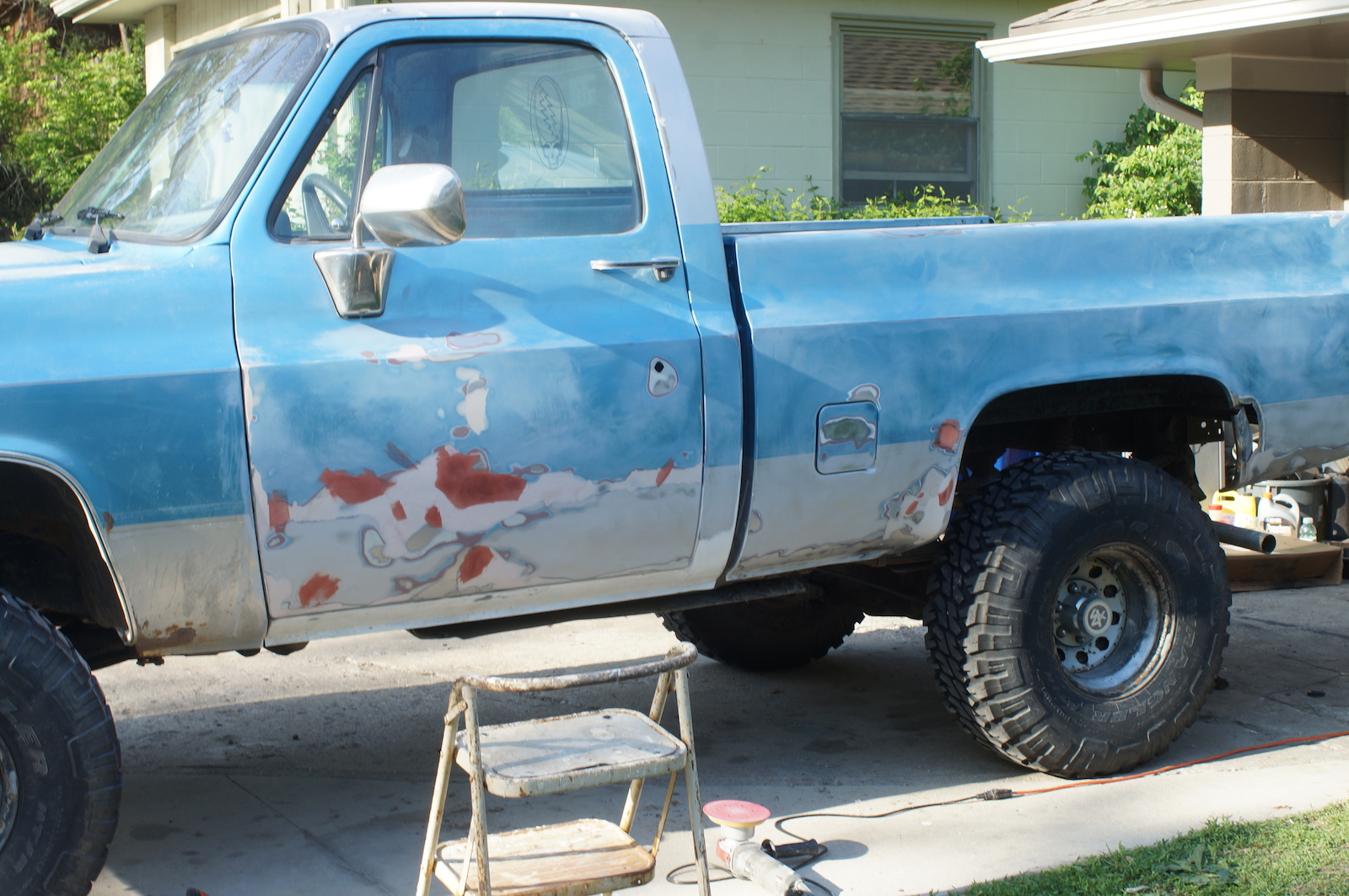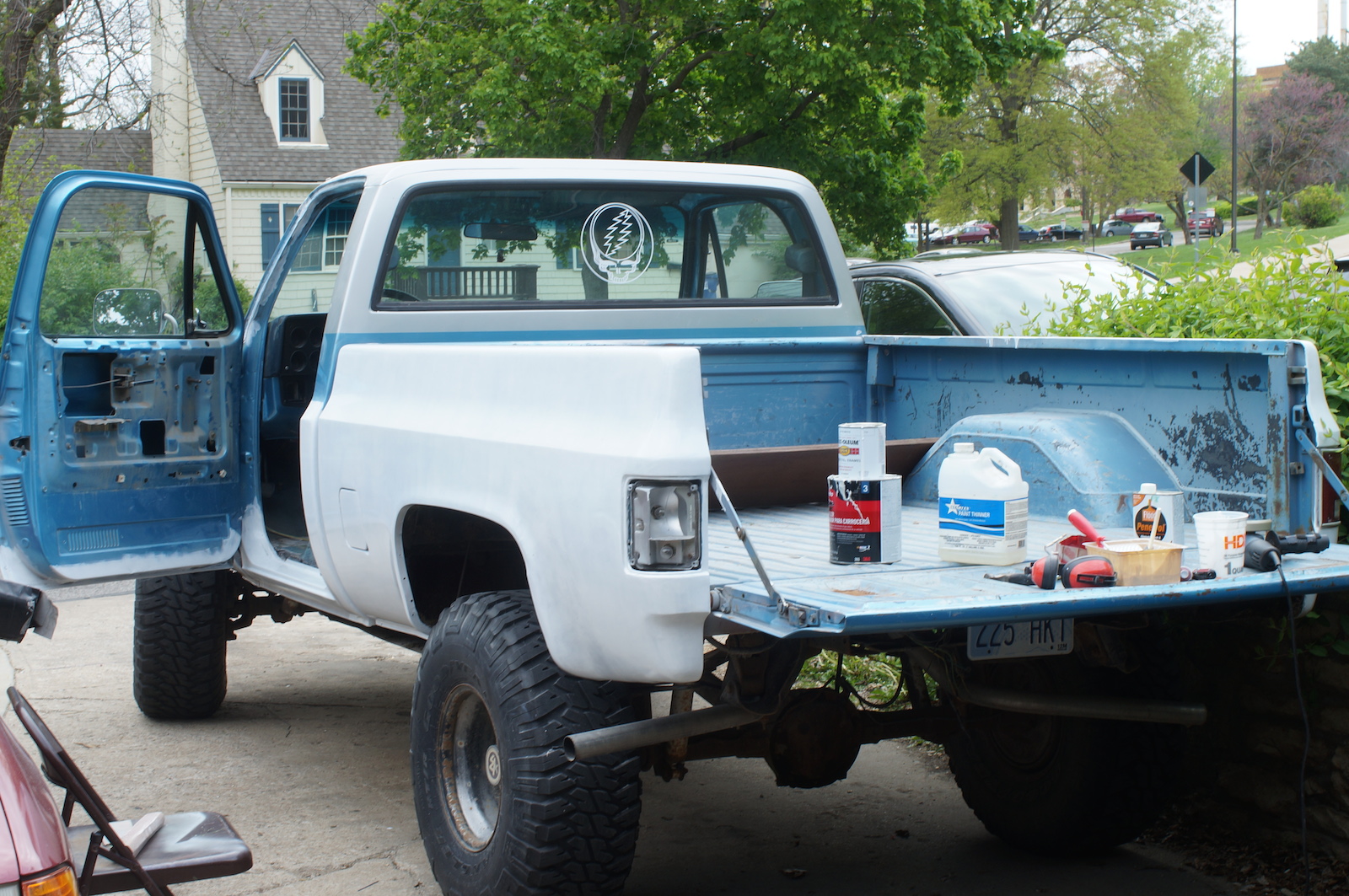 The roller method is great for getting in between the bed and the cab without having to remove the bed.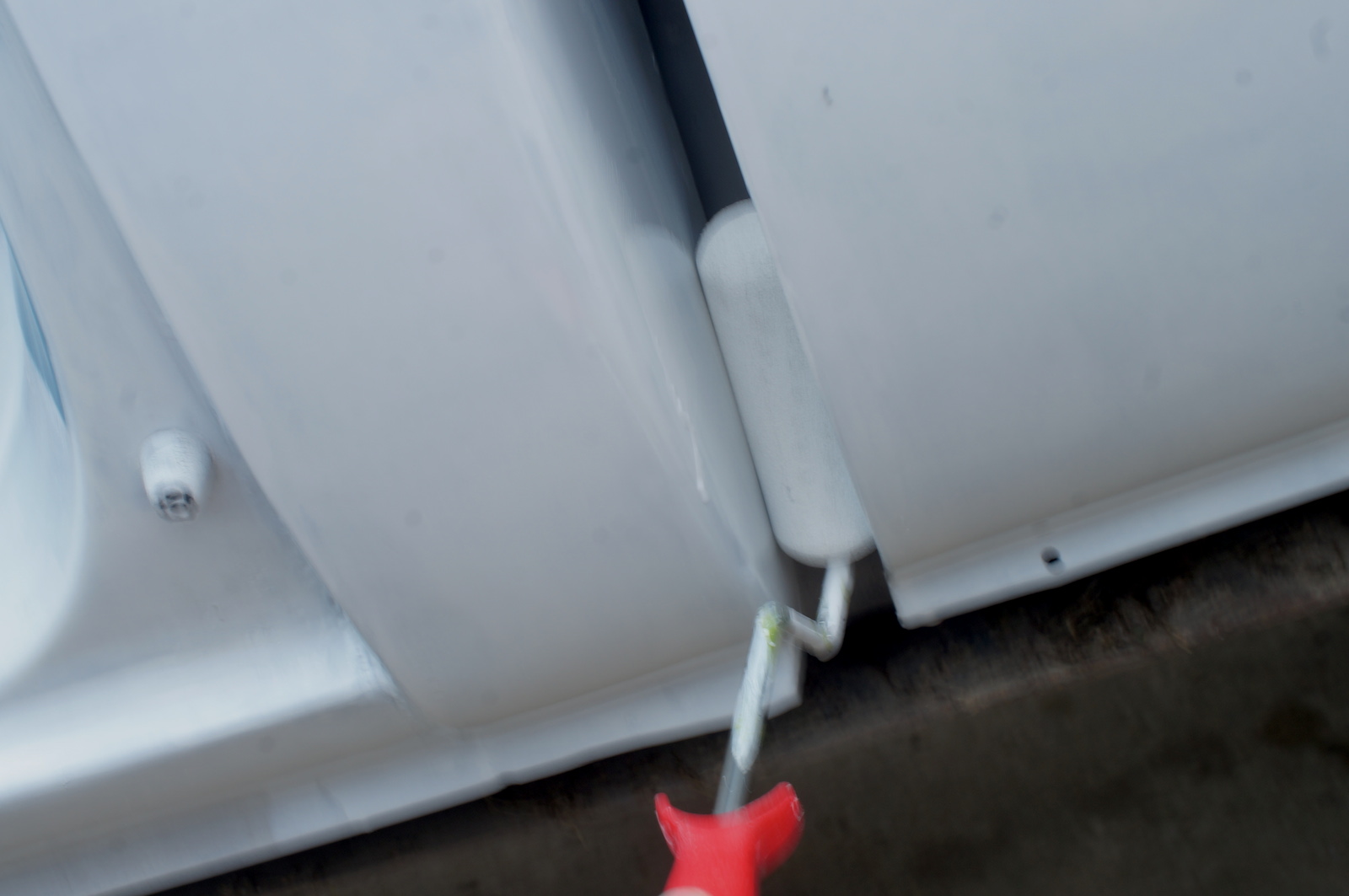 The rustoleum goes on SO much better and flatter than the sherwin-williams All-Surface paint.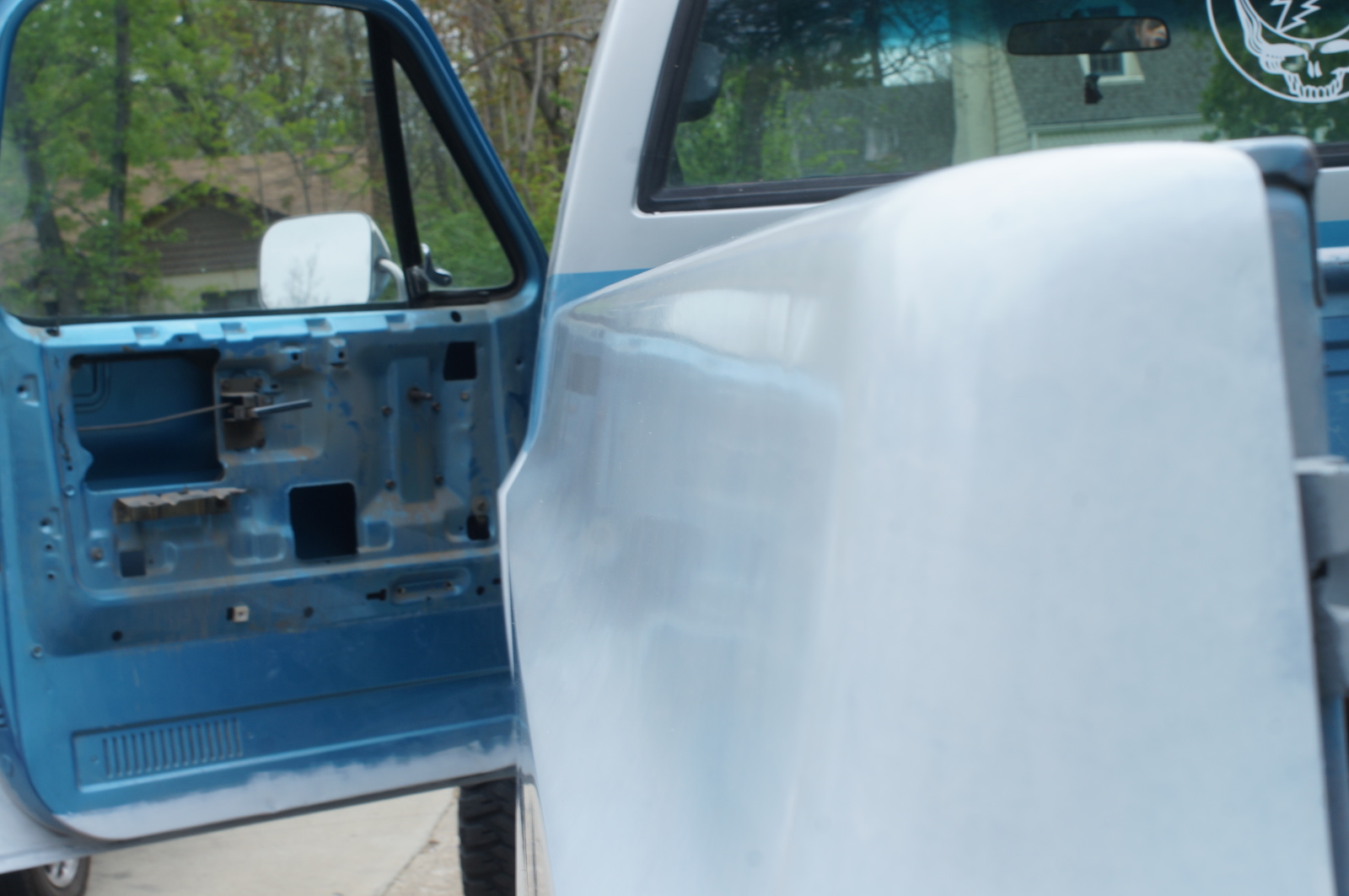 In fact, I've decided to just to go with the hunter green rustoleum. It's easier to apply, cheaper, dries harder and faster, and just better. The hunter green is a fine color. It's not super fantastic, but I'll be very happy with it. Here's a comparison of the too colors: