Vintage Scrambler Build, Part 2
The bike recieved a full-featured article on BikeExif.com!! Yeah baby! Read about it here: http://www.bikeexif.com/honda-cl
...let's see, where did I leave off from Part 1...
After getting the 1974 Honda CL200 halfway finished by adding custom exhaust, custom handlebars, custom lights and custom tires, I discovered that the engine needed to be rebuilt. So I did that- read about it here. 
Next up: new seat. I decided to reuse the stock seat pan because it wasn't too rusted and it would also allow me to keep the seat hinging/locking mechanism. I wasn't looking for a dramatic transformation in the seat, just a slightly lower profile shape and wrapped with a nicer cover. So I began by taking apart the seat foam and seat pan from the vinyl cover, and placing it back on the bike that would act both as a table and a reference point. I put a tarp between the seat and bike to keep foam bits from getting into places they shouldn't.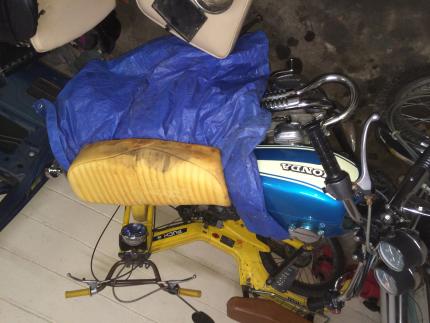 Then I simply used some tools to shape the foam. First I used a long serated knife, like a bread knife, to get a rough cut. Then I used wood rasp to refine it to the final shape I wanted. In hind sight, a cheese greated would have worked perfectly too.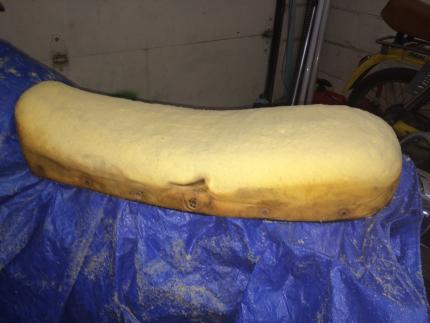 Then it was a simple matter of finding someone to fabricate the vinyl wrap and put it on there. I took it to The Interior Shop in KC which specializes in interior upholstry on classic and lowrider cars.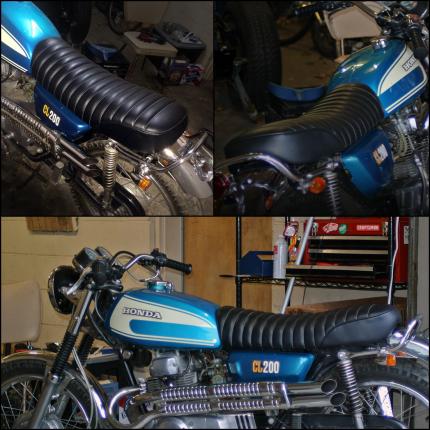 And now the only thing left to do was... take some GLAMOUR SHOTS!
At the time of writting this, the bike has been nominated for Bike Of The Month at http://www.dotheton.com and voting has began. Wish me luck!