IKEA Hack: Using IVAR for an Open Wardrobe System
After my frist trip to IKEA ever, I'm now an IKEA believer.
But it wasn't without some conflict. 
We had planned on using the IKEA ALGOT for our open wardrobe. But when we found it at the IKEA store in Kansas City, I expected some employees would guid us through some software where we could put in the room dimensions and exactly what we wanted and then they would help us get everything we needed. Instead, there was no dedicated ALGOT workstation and an employee had to find us a computer with a browser so we could just go to ikea.com and print out the materials list - which was over 100 items!
After eating some meatballs and talking it over, we decided to check out a few other storage solutions and thats when we came across IVAR. I immidiatly was drawn to it because it was solid pine (no particle board allowed in my house!) and was so much simpler. Plus it had a built-in dresser! 
But.. it didn't have a cloths rack. That's where the "hack" of ikea hack comes in.. you'll see.
First, before even assembly anything, we started staining and finishing the pine. IVAR is completely untreated pine and that means that if you where to try and paint it without a seal coat or primer, it would just soak into the wood. We decided to stain most of it in a dark walnut, and paint only the front dresser drawers in white. I found a bottle of Dannish Oil Dark Walnut and I love it! It's perfect. I think Dannish Oil is a mix of boiled linseed oil, mineral spirits, polyurathane, and stain. So it did have an odor for quite a while, like a week.
I'm really pleased with how the Dannish Oil stain turned out. We left it at that! No poly on top or anything, though I think I'm going to put some lemon oil on them from time to time.
As for the cloths hanger. We went to home depot and bought some lengths of 1/2" black pipe and a bunch of pipe fittings. After washing them with Dawn and rubbing the oily black finish off with steel whool, they looked great! Screwed them to the underside of the top shelf.
The baskets are from the ALGOT system but they fit perfectly in the deep IVAR shelves! 
The dresser drawer fronts got painted white. I used my favorite oil based paint: Rustoleum. We primed them first with Zinser Seal Coat, then sanded with 220, then layed on two coats of Gloss White rustoleum using a quality natural bristle brush. It worked great and will be very tough.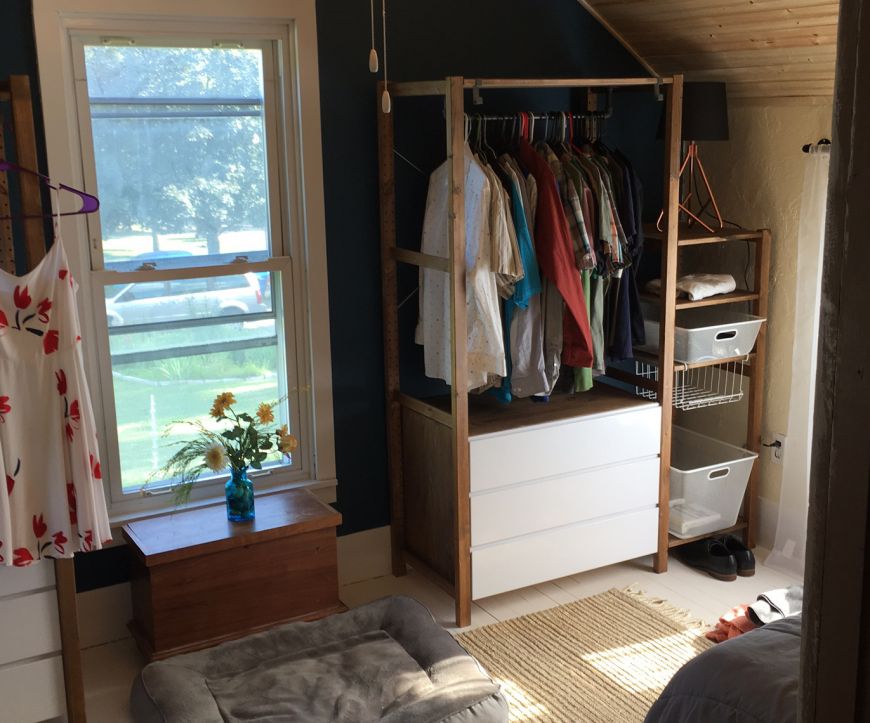 For the finishing touches, we added some cast iron hardware. Some of it is from World Market and some is from an antique store in town. (Unfortunitally the knobs are not pictured below but they're really cool and from World Market too. The brackets where used for wall shelves also in the bedroom.)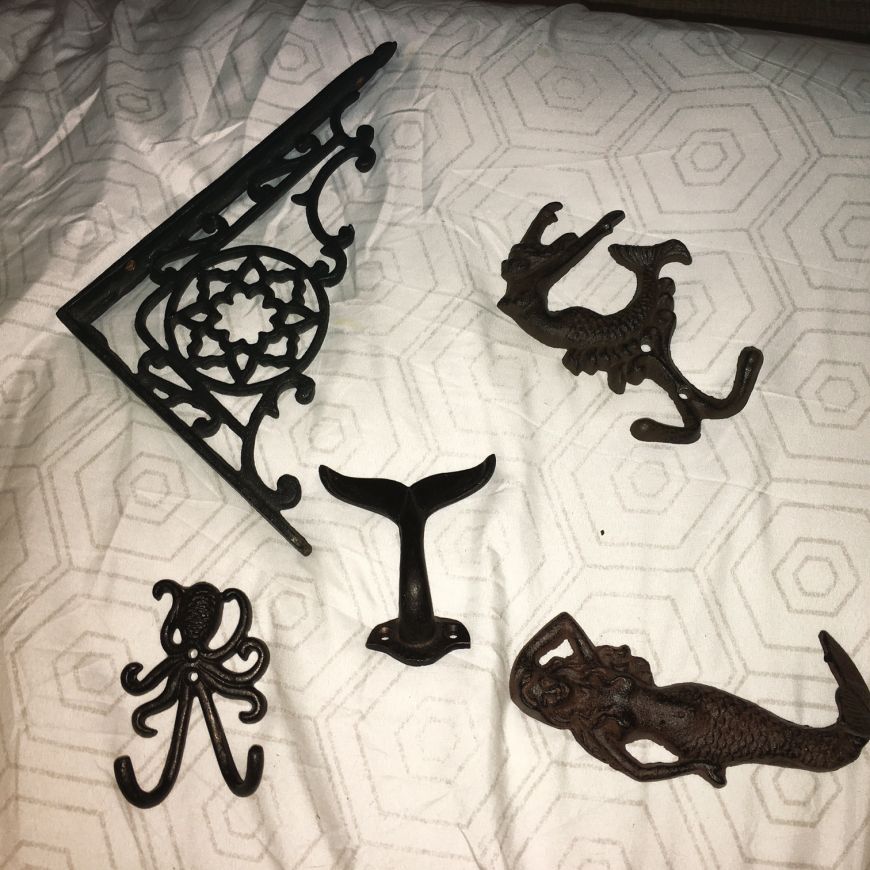 Ta dah!!!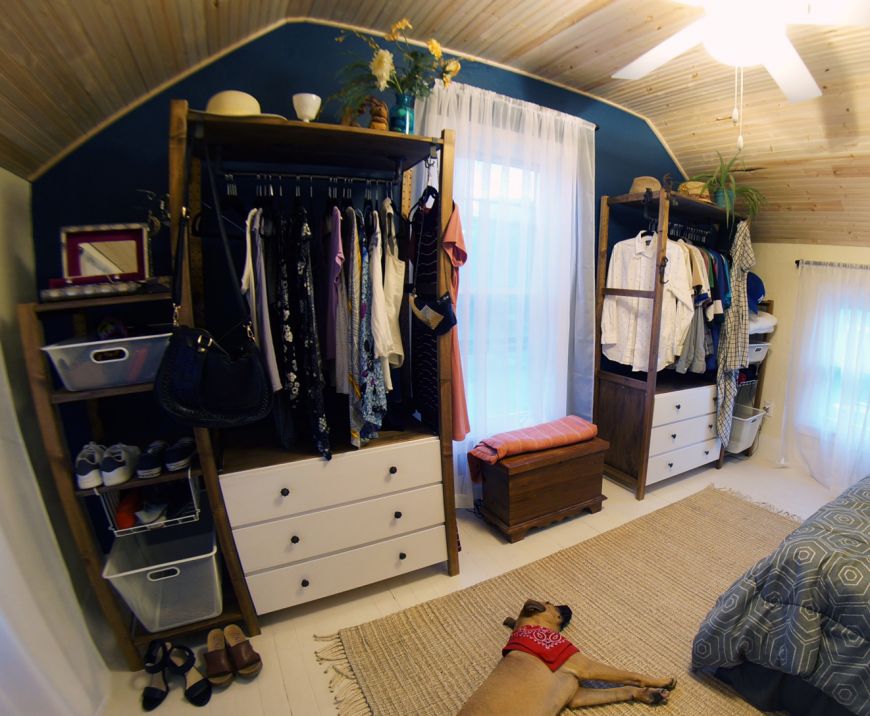 It turned out really good. I'm so glad we tore down the old closet wall to open up the bedroom and use an open wardrobe system instead. I'm an ikea believer now!