Yosemite Trip Report, Cathedrial Peaks tailhead to the valley, June 2015
In June 2015, my girlfriend and I and 3 other friends went on a 5 day backpacking trip in the Yosemite National Park. It was an absolutely amazing experience. We made a lot of mistakes but I don't regret a single thing. Our route completely turned on a dime on top of Cloud's Rest and we missed the backpacker's shuttle back to our cars but that just means we got to stay an extra night. 
California has been in a huge draught for years now. However, finding water wasn't an issue this time of the year because of the snow melt, but most of the snow as all melted and it didn't rain at all the entire time we were there. We think most of the creeks and streams will be dry in a month or two.
Here was the original plan. To go down the John Muir trail from the Cathedrial Lake trail head, all the way to Half Dome, then back up through the clouds rest trail back to Teneya Lake to catch the shuttle bus.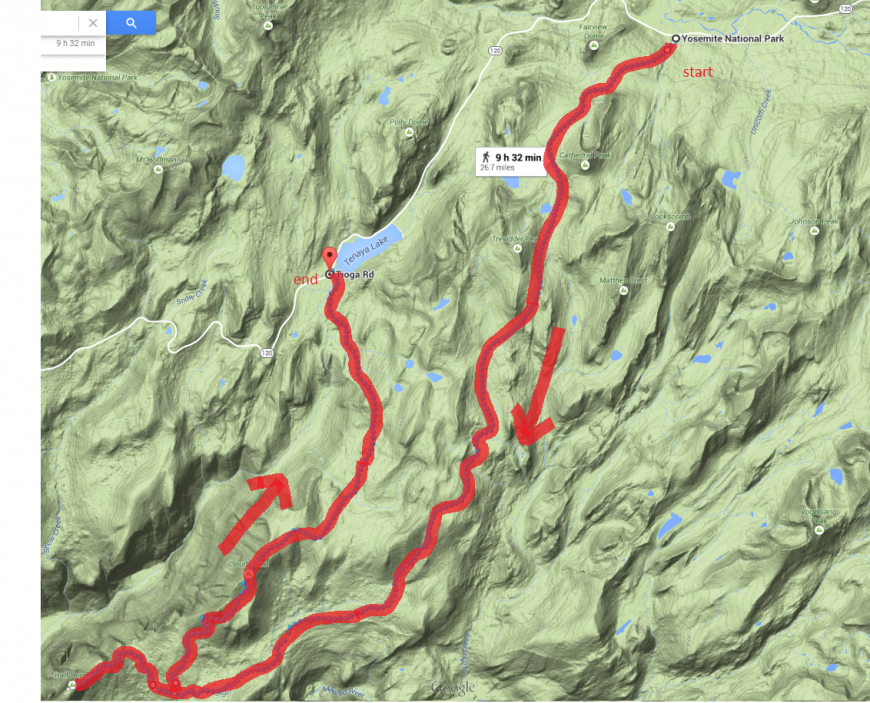 Here is the route we actually took. We decided to cut over (via the Sunrise Lakes trail) to the Cloud's Rest trail early and head south to Clouds Rest, but once we got there we had to turn aroun (more details about this are below). Then we cut back to the John Muir trail again via an un-named trail. We then changed plans again, deciding to hike down into the valley via the Mist Trail, rather than hiking back north to Tenaya Lake.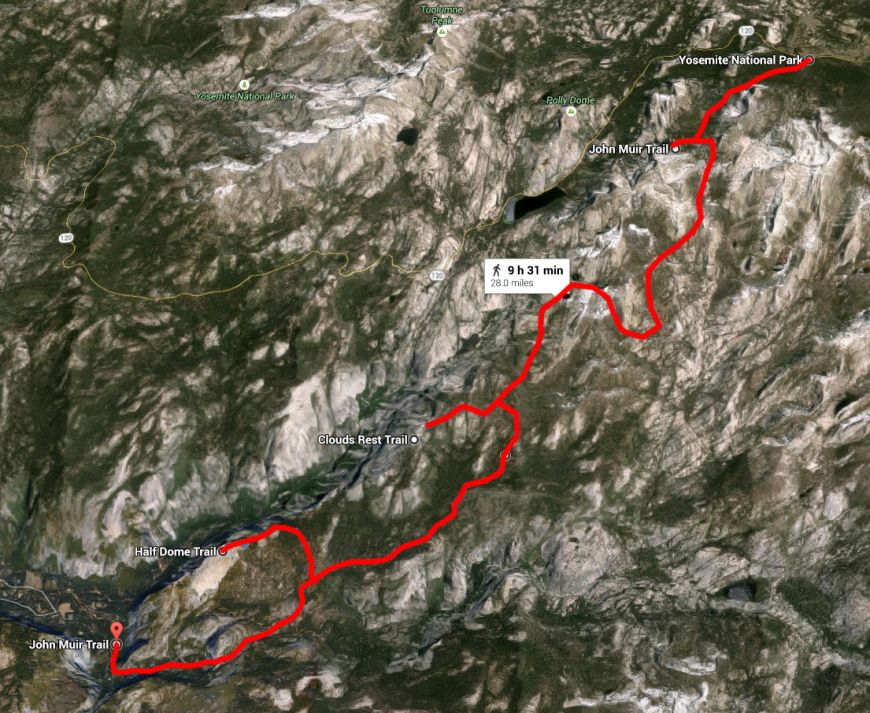 ---
DAY 1. The Cathedral Peaks area was awesome. As we went south, the mosquitoes got worse. By the time we got to the Sunrise High Sierra Camp, it was a cloud of mosquitoes. They completely dissipated once the sun went down and we could finally admire the amazing view from our camp site. They weren't much of an issue after this point.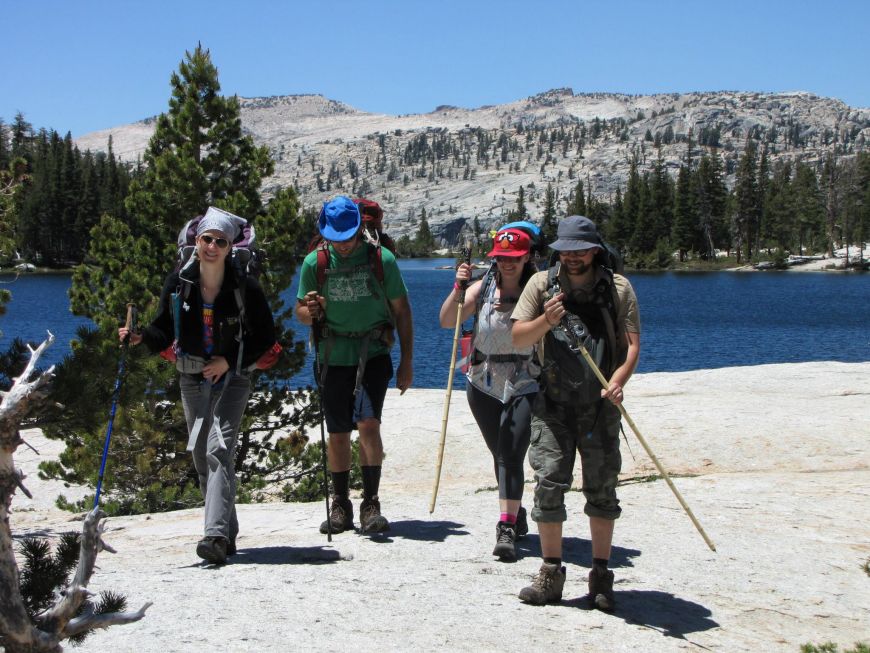 DAY 2. We changed the plan and hiked to Clouds rest on this day. The thinking was that it would be easier going over clouds rest going South rather than North because it looked like the steep climb was on the South face of the mountain. We ended up never seeing that side of the mountain...
Cloud's Rest was not passable with heavy backpacks, even if one of our group members wasn't having serious vertigo. Legs were too wobbly and the rock trail at the peak was too narrow for us, and any other smart backpacking group would have turned around as well. Still though, we really enjoyed the amazing view. Nate proposed to Jess at the top! 
We turned around and tried to take a shortcut through a trail back to the John Muir Trail and it lead into an area where fire had destroyed the forest a year or two before. The trail was destroyed. It was extremely steep downhill and on loose ash/sand/soil that hurt our ankles. We walked until the sun went down but were't out of Hell's Forest yet so we had to camp in it overnight and that kinda sucked. [Update: it was the 2014 Meadow Fire.]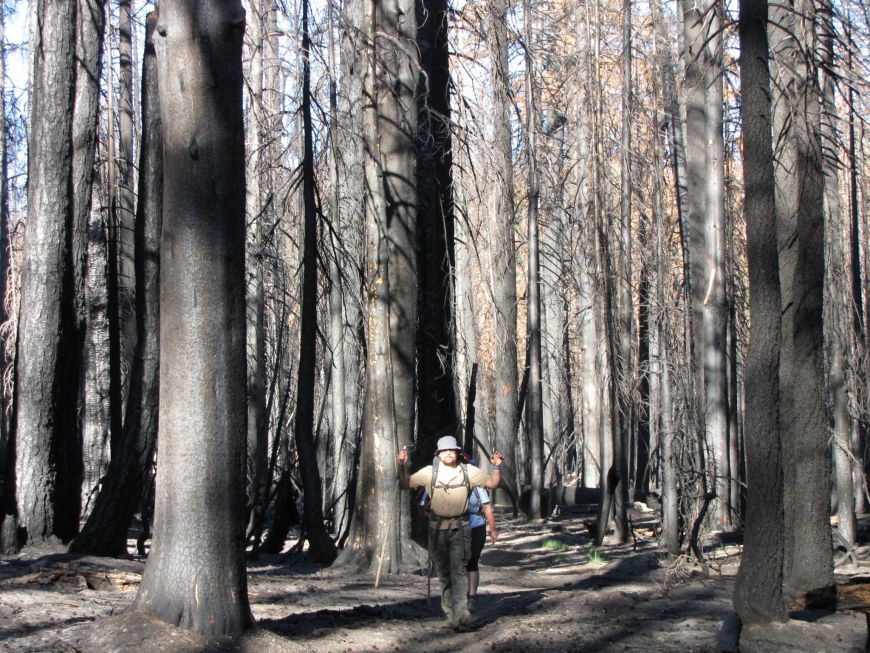 DAY 3. Then I hiked to the top of Half Dome with one other member of the group while the others went to Little Yosemite Valley camp to meet us. People were cooking free pancakes on top of Half Dome! The cables on Half Dome where not crowded going up at 10am but where much more crowded coming down an hour later. We had rock-climbing harnesses on and lanyards with big carabeaners that we attached to the cables so we could repel on the outside of the cables, skipping past the crowd and it was sooo easy. On the way down we witnessed one dude laying down on the rock in complete exhaustion, only half way up, and young woman having a bad time with anxiety. We camped at the Little Yosemite backpacker's campsite that night. Swimming in Mercede Creek was amazing.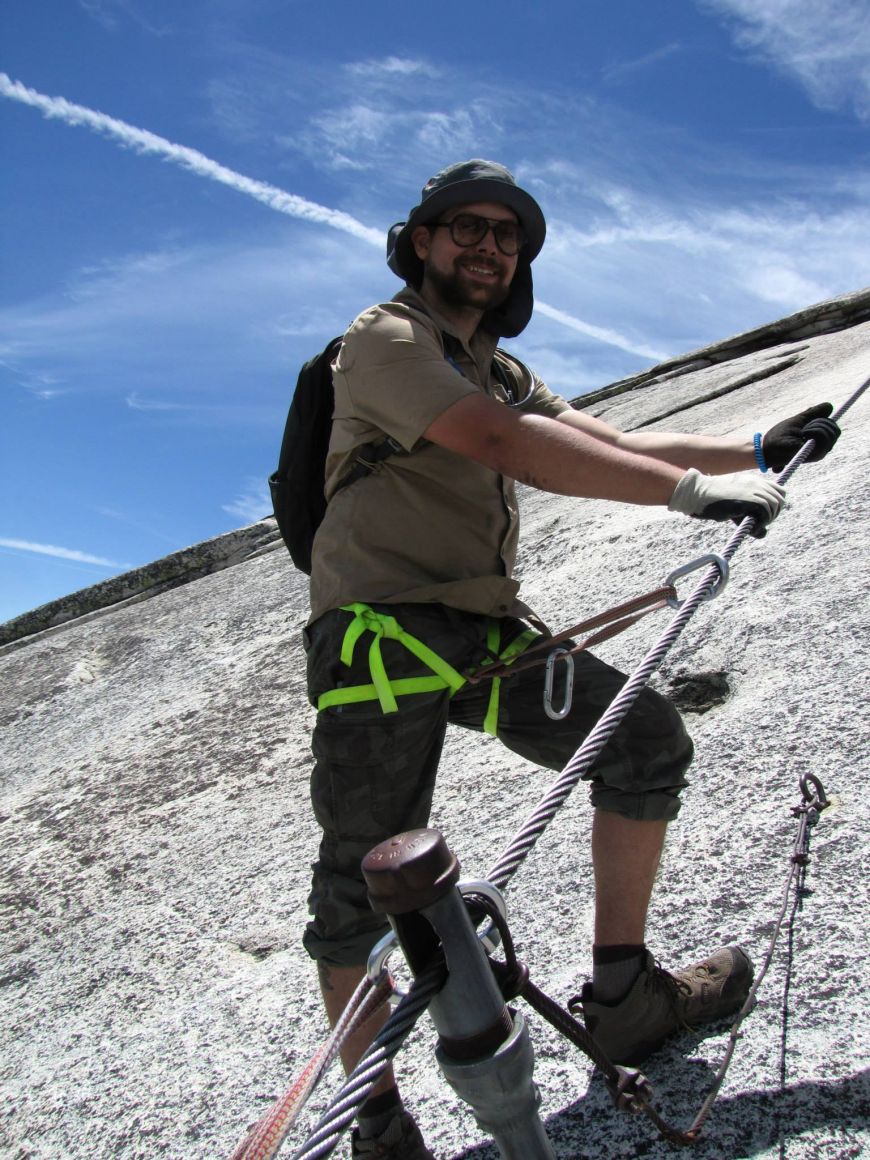 DAY 4. We decided to hike down into the valley and catch the shuttle back to our cars that same day, rather than hike back North to Lake Tianga (sp?) and catch the same shuttle there. This would cut our trip by one night, in theory. We took the super steep route paste Nevada Falls and though it was beautiful the crowd of day-hikers was a pretty bad. Once we finally got into the valley, we learned that the last shuttle out of Yosemite Valley to the Cathedral Peaks trail head was at 1:30pm!! It was 3:00pm. Fortunately our wilderness pass gave us permission to sleep in the backpacker's camp in the valley, and we went and bought some beer from the store which surprisingly didn't charge us an arm and a leg.
Interesting side note: when we went to the visitor center to get info on the hiker's shuttle bus, we talked to an older black man and he was really helpful. When we got home, we watched the Ken Burns documentory National Parks: America's Best Idea and we saw the same guy we talked to! He was interviewed in the documentary, in the first episode about Yosemite.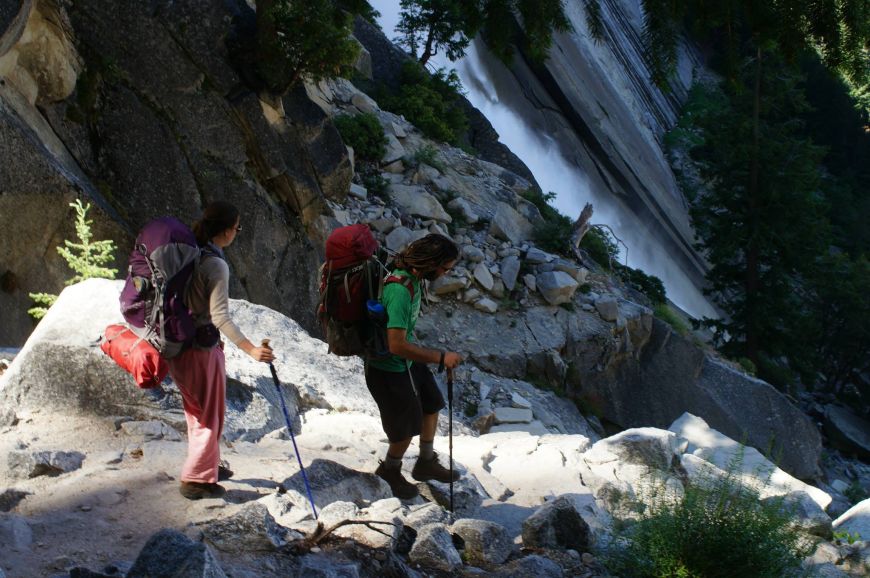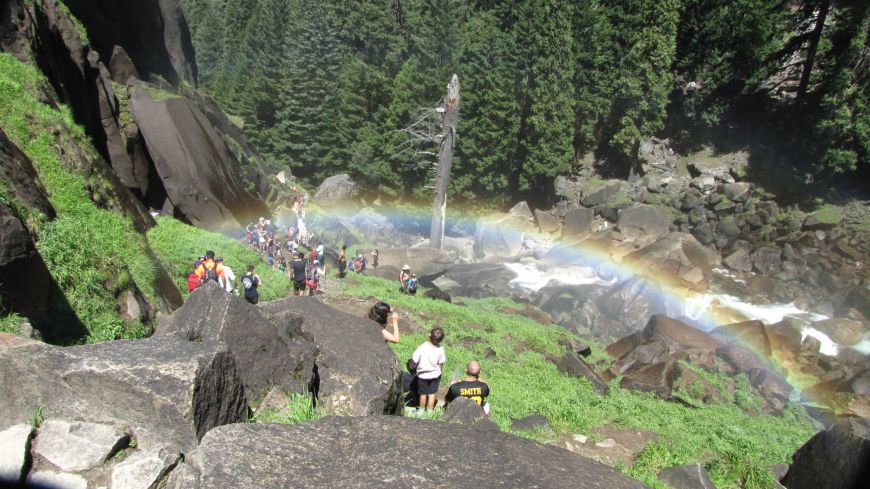 On the way back home we drove through Death Valley. Going through Death Valley in the hottest part of the day, in the hottest part of the year, during a Heat Advisory.. was a mistake. It was 120 degrees!! Nate's car overheated twice...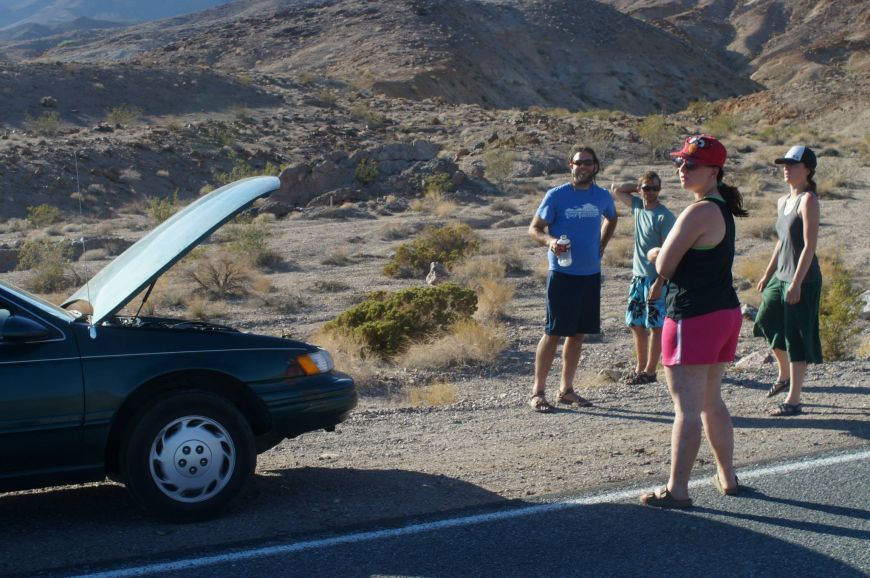 But we made up for it by making a detour to the Grand Canyon.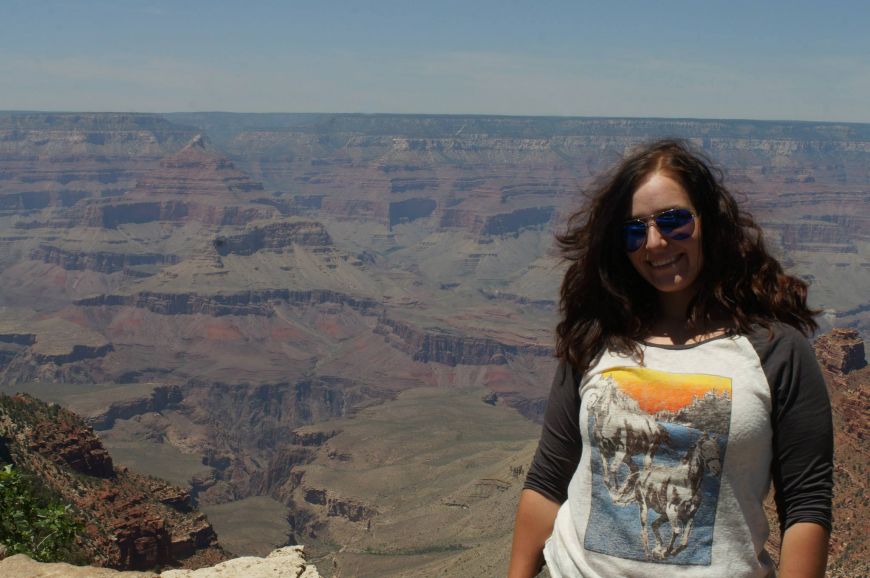 Hope you guys enjoyed this trip report and even learned something! I learned a LOT from this trip, lol. In a few weeks I'll do it all again in Colorado, but higher elevation, more rain and much much more isolation...