This Old Three-Wheeler: Honda ATC90 Project, part 1
Here's my new-to-me 1973 Honda three-wheeler.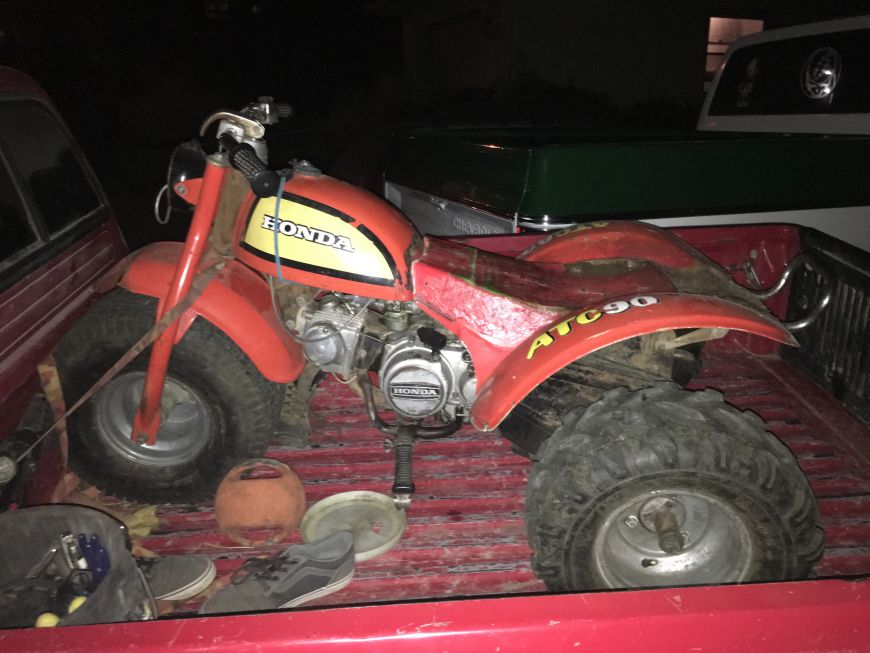 It runs well but it needs a lot of work. 
The front tire is all wrong and dry rotted and won't hold air air, I just ordered a new Kenda knobby and inner tube.
The shift lever has been stripped off and the shaft is completely rounded from people using vice grips on it.
brakes don't work
no seat
the rear fender has been repaired with fiberglass but it's pretty ugly, but it doesn't bother me much
the gas tank needs the rubber piece to hold it on
petcock is missing
headlight is missing
wiring is all screwed up
stock air cleaner is missing
the guy before me installed a new throttle cable but it's too long
But it runs!
Payed $300 for it. 
I think I'll change the oil and check for contaminants and gasoline smell. Check compression (though I don't know why, it's not going make it any higher or lower! lol) I don't think I would rebuild the motor if it needed it. If it's worth it then I'll put in a Lifan, if not then I'll try to sell it for what I have in it. Then I'll start fixing things. If I get everything fixed then I'll build a luggage rack and tow hitch for lawmower extensions and pulling logs and stuff.
I plan to use this like a tiny tractor in the rocky mountains. I'm planning on buying some land West of Pike's Peak or somewhere in Colorado or New Mexico. Build a cabin or something. Hopefully this little guy will be a big help! The transmission has a low/high gear selector so hopefully it all works out as planned.
I just checked compression. I got 110psi, cold, carberator on but chock open and wide open throttle. I think that's not bad! Let me know if it absolutely must be higher though. But I know that the engine holds an idle runs fine with plenty of power. On the other hand, the manual says it should have 175psi. Adjust for the fact that it's cold, carborator is on... there probably a lot blowing past the seals.
New air filter: it's the old pod filter I replaced on my CL200 with UNI filter, attached to the carb with a big piece of clear vinyl tube that had the perfect outer and inner diameters for the carb and filter. If I can do by with parts around the garage, then that's what I'll do. Doesn't have to be perfect.
Next, I took care of the rusty bent up front-fender with an angle grinder. I kinda like the way it looks like that...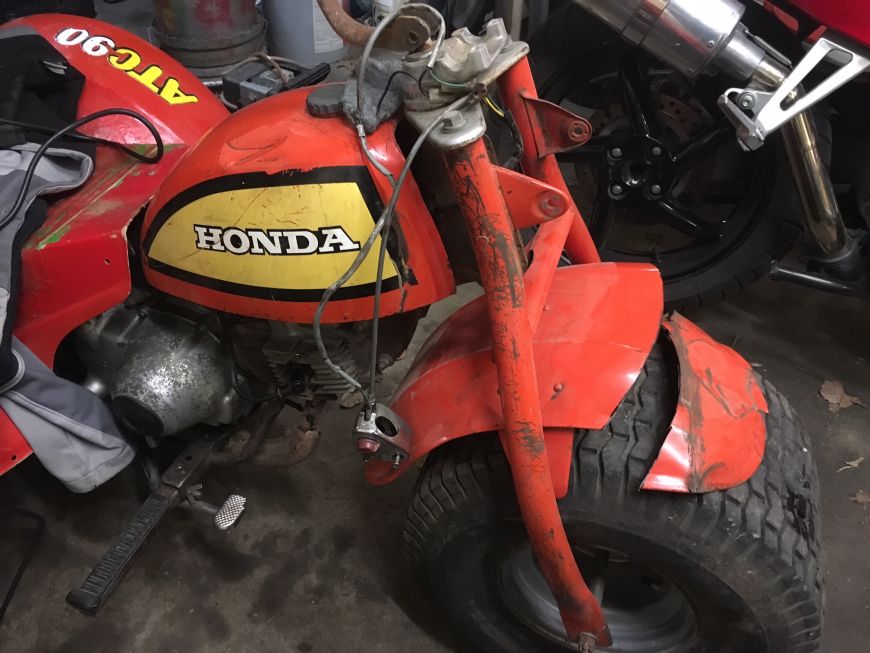 I ordered a new tire for the front, a Kenda scorpian 22x10.5x8 (iirc), will be much much better than the cracked and leaking lawn more tire. I was able to wrestle it onto the rim by standing on it and basically using my shoes a tire levers, while I used a huge tire lever to pry the bead over the little sucker. I had bought and stuffed a tube in there too, so that I could seat the bead from home without any crazy tools. It worked really well! Quick and smooth, I was surprised with myself haha.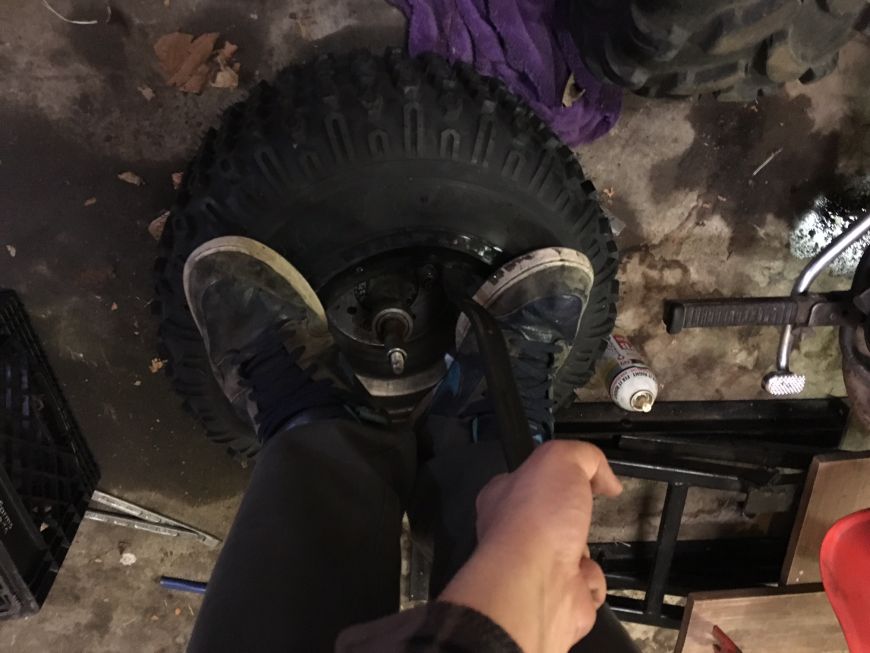 Then I found an ATC200 that they were only asking $50 for. What could I lose? Well, it's in worse shape then I had hoped for. I don't know if anything is salvagable from it. 
But I was able to use the handlebars from it! Yay! They're much straighter than the ones on the ATC90.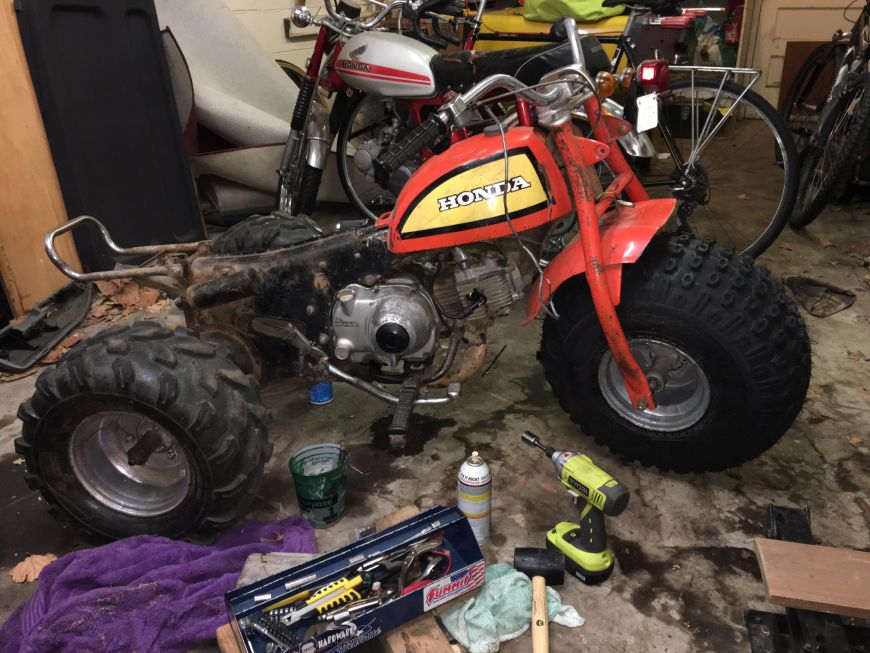 Join us next week on This Old Three-Wheeler, where we take an old Honda ATC90 and continue trying to fix it. Don't miss it!